Using community engagement to solve the challenges of a sewer line project
How do you complete a project that requires 49 easements, runs through peoples' backyards, employs heavy equipment and has extremely limited space in which to operate? As we learned during the design and construction of the Lake Katherine sewer line replacement project in Columbia, South Carolina, the only way to complete a task of this magnitude is by taking action, exchanging information, building trust and cooperation between engineers, contractors and the community as well as – crucially — thinking out of the box to find solutions.
The City of Columbia identified the 2.7-mile-long sewer line as a top priority after several years of evaluating their major trunk sewers. Its replacement was a key part of a comprehensive program addressing the city's system capacity and structural issues. As it was developed more than 50 years ago as a gravity sewer line, the Lake Katherine project had a fixed route that made repairs challenging. Further complicating matters, replacement required numerous easements as the route traverses a commercial area, a lakefront residential area and is in proximity to two creeks, one of which is a protected waterway.
Here are some of the lessons we learned as we brought this project over the finish line:
Talk. Talk. And talk some more. When talking with the communities involved, keep the dialogue flowing about the issues that are relevant to them. Some engineers have reputations for avoiding interactions and only looking at numbers and plans. We knew from the outset that communication and coordination across our project team, the general public, conservation groups and homeowners' associations (HOA) would be key. To us, this meant making a concerted effort to listen to concerns, provide information and work with the community and public entities from design to construction to project completion.
We held formal and informal meetings to receive community input and provide inclusion, answer questions and enable the community to have a say in the overall process. During those meetings, we provided construction schedule updates and discussed what to expect next. When questions arose about a specific property, we met property owners on site to discuss and solve problems. The city did its part, adding updates on social media and sending out phased mailers, to make residents aware of project activities.
Pay attention to design and constructability. We looked at the project design not only through our engineering lens but as community members evaluating what was needed for constructability. One of the biggest challenges was gaining workspace. At Lake Katherine, a man-made 150-acre lake controlled by the HOA of the same name, we had to bring 30-inch pipes and heavy equipment into very tight spaces to work on sewer lines between the homes and the lake's edge in an area that incorporated retaining walls and established landscaping.
It was clear that we would need the use of the lakebed to complete our work along the lake. To make this possible, we secured a temporary construction easement during the design from the HOA and came to an agreement to lower the lake level during construction. Our contractor continued the outside the box thinking, advancing the idea of creating a temporary road along the lake in the temporary easement to bring in the equipment without traversing residents' backyards. Relying on communications skills, we worked closely with the HOA on the easement, agreement and use of the temporary road during construction.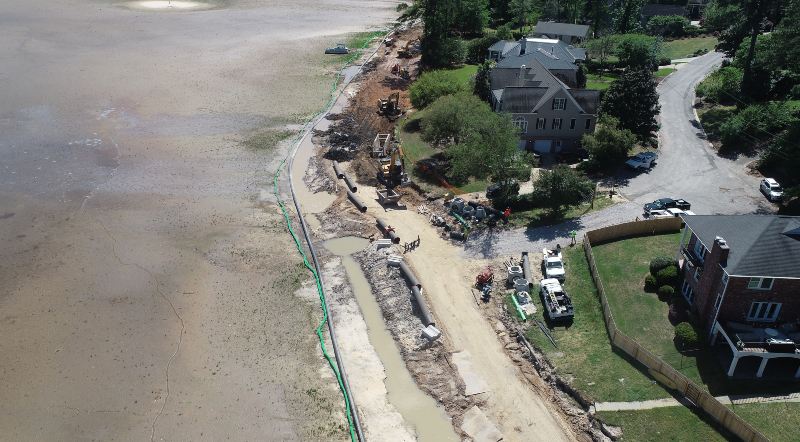 Our team goal, across city workers and contractors to AECOM professionals, was to allay individual concerns. This was especially significant for the work easements along Lake Katharine. In 2015 these homeowners experienced a 1000-year flood centered on our project route that destroyed or severely damaged homes which then required years of repairs. Homeowners did have to allow for retaining walls to be temporarily removed during construction. It was important they trust that their properties would be restored to initial condition once work was completed. The HOA board was a key part of this success, providing communication to homeowners regarding progress and issues and communicating individual homeowners' needs to us.
Take action. As a team,we lived by the mantra "be flexible, find solutions." We moved quickly to solve problems as we went through project construction. Our work on the temporary road was one aspect of this approach. Another was managing the concerns arising from the commercial district regarding the potential presence of heavy machinery during the holiday season. Our easement decreed the contractor could not be on a commercial property from October 1st to January 15th to accommodate these needs and we arranged the schedule to work on other aspects of the project at that time.
Completion of the sewer line repairs was a win-win for those living along the project route. The newly repaired pipeline prevents spills and overflow and the damage and pollution that goes along with them. Lake Katherine's homeowners found their properties were restored to their pre-construction condition. And the city will have a sewer line equal to the task of providing service for years to come.