#WomenExcel: Why I'm proud to represent the Calmentor mentor-protégé program
I have been working in the transportation industry for over 30 years and have managed exciting and challenging projects in different areas of transportation, including highways, transit and airports. During that time, I have been actively involved in the professional community, and today I truly enjoy voluntarily engaging with that community and serving on the boards of professional organizations. I am as passionate and diligent about my volunteer work as I am about my full-time job, which has helped me build a great national network and given me the satisfaction of paying forward what I have learned. So when I was asked to represent AECOM in the Calmentor mentor-protégé program in 2007, I gladly agreed.
Calmentor is sponsored by the California Department of Transportation (Caltrans District 11) and the San Diego Association of Governments (SANDAG) in San Diego, Calif., to encourage and support the participation of small architectural and engineering firms in public transportation projects through voluntary partnerships with mid-size and larger firms. I have been actively engaged in my professional community for most of my career, and I felt that this project was a great way to give back, build a bigger network, and help my clients expand their pool of expertise in the region.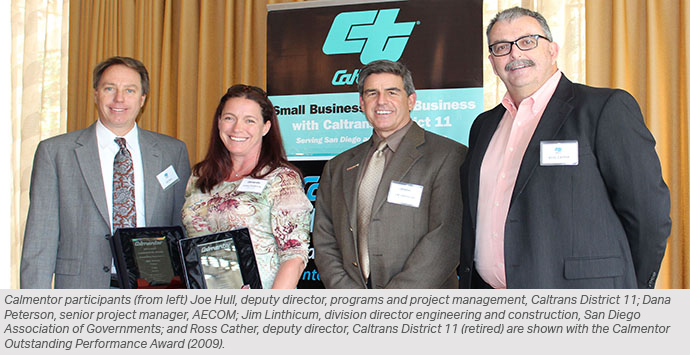 Seven years and just as many protégés later, I am proud that AECOM has supported these efforts. Caltrans and SANDAG have recognized us for our outstanding performance and continued support of the program every year. I am also happy to have encouraged several of my colleagues to mentor the smaller firms, particularly Leo Handfelt, vice president, Robert Scott, vice president, Chris Mockus, vice president, and Dana Peterson, senior project manager — who mentored our latest protégé — in the La Jolla office. Dana's approach in particular was similar to ours, with a goal for mentees to gain business knowledge through one-on-one meetings with several of our key operational leaders within one year. These experts included individuals with technical expertise in areas such as accounting and finance, marketing and business development to answer questions and provide guidance. This approach also provided exposure to our key decision makers and created opportunities for partnering with our firm.
Additionally, Dana's experience reflected my own; as women in a male-dominated industry, we are acutely aware of the challenges small or disadvantaged businesses may face trying to grow in a competitive industry with high barriers to entry, such as ours. We both feel fortunate to have been given the opportunity to participate, and are proud to have aided the growth and development of these firms.
AECOM's purpose is to deliver a better world by solving our clients' most complex challenges. We do this by uniting professionals working collaboratively across a broad range of disciplines, and our core values recognize that our business success is based on a commitment to our people. AECOM participates in programs like Calmentor not because a client requires it, but because we care. By engaging with and mentoring small businesses, we are able to build long term relationships and can partner on a variety of projects. We also take pride knowing that we are helping our clients create a bigger and better pool of expertise in the community to meet their small and large program needs. I am so glad to work for a company that shares my values and engages small firms on many of our projects.
Sunnie House is a vice president and Transportation Market Sector (TMS) leader for AECOM in the Southern California and Southern Nevada Area with a broad range of experience in the transportation industry. She has served on the boards of numerous organizations in the last 25 years and is a strong advocate of diversity and inclusion in the workplace.
LinkedIn: Sunnie House