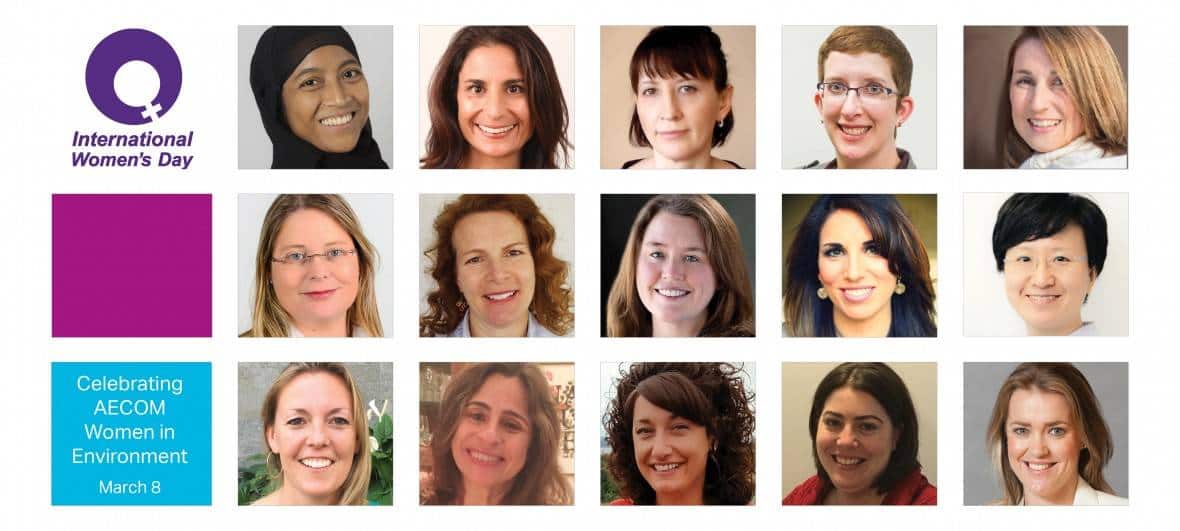 AECOM honors women from our global environment business
Celebrated on March 8, International Women's Day (IWD) is widely recognized around the world for honoring women's achievements and contributions and for bringing awareness to the issues of gender equality and empowerment — the progress made thus far and the work that still needs to be done. This effort is reflected in this year's IWD campaign theme, #PledgeForParity, and in our own sharing of #SheInspires stories.
Our sixth annual IWD feature from our environment business includes photos, biographies and insights from 15 outstanding women leaders in this market. They comprise an impressive and inspirational group, representing the significant accomplishments, excellent client service and technical advancements made in the environment business every day by a globally diverse workforce.
We are proud to celebrate and honor diversity and support an inclusive workplace where all people can reach their potential.
Adriana Moreira, Environmental Impact Assessment & Permitting Manager
Rio de Janeiro, Brasil

Adriana Moreira is a biologist with 25 years of experience in environmental consulting and has been with the company since 2001. She has participated in more than 70 environmental studies, and has extensive experience in environmental assessment and management across several sectors. Adriana shares what inspires her: "Maintaining and continuously improving the quality of our environmental studies in Brazil, where we have a great biodiversity, is an inspiring challenge. It is very rewarding to manage a diverse and multidisciplinary team of biologists, geographers, geologists, oceanographers, engineers and designers to all work collaboratively toward a successful project on critical environmental resources."

Helen Jiang, Associate Director Environment Practice
Shanghai, China

Helen Jiang has 15 years of experience working in both public and private sectors, with rich project experience in China. She has executed a variety of transportation and resource development projects, including toll roads, railway and mines, per pertinent China laws and regulations, IFC performance standards and Equator Principals. "Our work makes a difference and is inspirational on a world scale," says Helen. "Building and delivering a skilled and proactive team of risk and environmental management professionals helps clients eliminate environmental, health and safety, and labor and human rights risks and liabilities across their global supply chains."

Andrea Von Burg, Senior Risk Assessor and Marine Biologist
Honolulu, Hawaii, USA


Andrea Von Burg Hall is lead risk assessor for the AECOM Honolulu, HI, office, with 13 years of experience focusing on human health risk assessment. As a marine biologist and scuba diver, she has been instrumental in the development of the AECOM scientific scuba dive program and in conducting underwater surveys of coral reefs, reef restoration and marine natural resource protection. She finds much of what she does at AECOM can be "truly inspiring work." Andrea adds, "I operate under the belief that you can learn something from everyone; sometimes you just have to be a very good listener."

Diane Sanzone, Senior Manager, Major Projects and Impact Assessment Lead
Pocasset, Massachusetts, United States 

Diane Sanzone is a senior technical and regulatory expert with 24 years of experience. She has conducted scientific and technical studies all over the world and managed large programs in marine and onshore ecosystems for major commercial and government clients. Diane shared, "It has always been important for me to follow the adage: 'Go out on a limb, that is where the fruit is.' Following that simple yet daring saying and knowing that it is all about the relationships you build have been guiding principles for me."

Shannon Major, Senior SH&E Consultant
Kitchener, Ontario, Canada

Shannon Major is a senior safety, health and environment (SH&E) consultant with nine years of experience in SH&E compliance and management. She has worked for clients across Canada in sectors such as mining, waste management, commercial retail and property management, manufacturing, government, aerospace, aviation and medical care. Shannon encourages not shying away from uncomfortable or difficult situations: "Learning how to overcome such challenges is what makes us a better person, and enables us to deliver better solutions."

Tracey Vannest, Operations and Key Industrial Account Manager
Michigan, United States

Tracey Vannest is an operations manager for one of our leading industrial/manufacturing client account programs as well as a certified project manager and geological engineer with 16 years of tenure at the company. She is responsible for program-level business, providing office leadership and mentoring support, remediation system optimization and site strategic planning, and performing evaluations of site remediation strategies. Tracey motivates others to think differently about their careers: "Our careers and professional paths don't exist solely to complete a project, they are a vehicle for thoughtful and driven engagement with others. Put forth every effort to positively impact those around you, so they are in a better place than they were before they met you."

Reita Kanagarajah, Senior Engineer, Regional HSSE Manager
Kuala Lumpur, Malaysia

Reita Kanagarajah is a regional health, safety, security and environment (HSSE) manager for Southeast Asia and specializes in environmental site assessments, environmental due diligence, human health risk assessments, and providing clients technical expertise to assist with regulatory negotiations. Reita is proud to "help keep people safe across the multi-country operations of one of the world's leading petroleum companies. Our diverse and highly motivated team was recently recognized by our client with a global award, which is incredibly inspirational, especially because it relates to human and environmental safety."

Rheana Wilson, Marketing Coordinator
Michigan, United States

Rheana Wilson has 20 years of experience as an editor for marketing communications. She supports marketing and business development efforts, including market research, proposal development and coordination for the environment business line, primarily in the power market sector. "As a mom of four, work-life balance is very important to me," Rheana says. "It's not about the schedule of hours worked, it's about responsiveness and getting the job done. I always strive for the best and to be kind, including treating colleagues and clients alike. It makes for a much more pleasant work environment."

Olga Shtepenko, Associate Director, Oil and Gas EMEA
London, United Kingdom

Olga Shtepenko is an environmental specialist with 18 years of consulting experience, primarily in oil and gas, renewable energy, water management and contaminated land sectors. With AECOM, she has worked with multi-national and independent companies across their operational life cycle on matters relating to pollution prevention, remediation, risk assessment, development and implementation of safety, health and environment management systems; emergency response planning; regulatory permitting; and stakeholder engagement. About her work, Olga shared, "I am inspired and proud to successfully coordinate multi-cultural and multi-disciplinary teams of specialists across different geographies to deliver client projects."