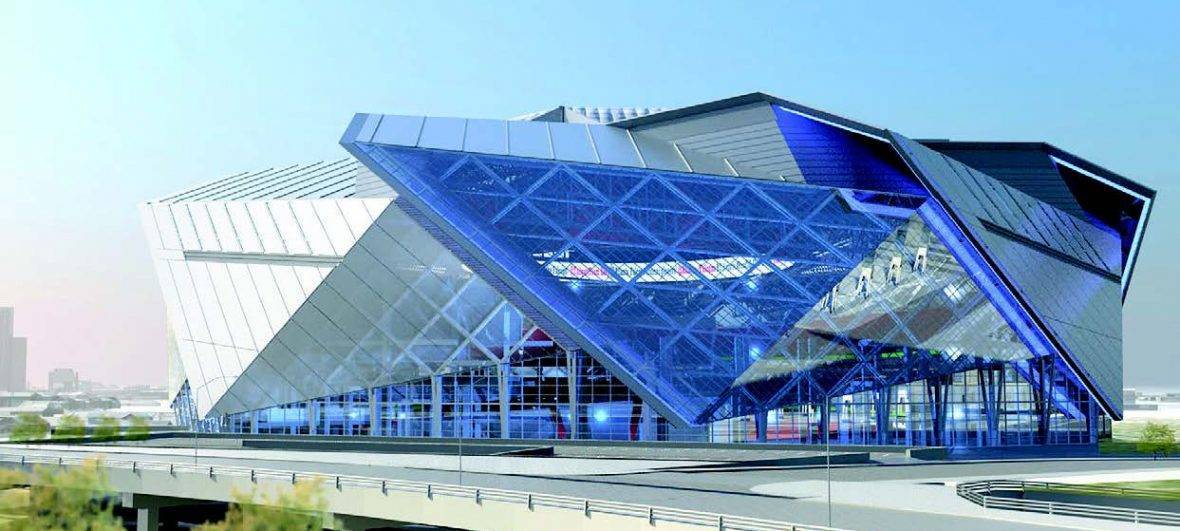 Innovative construction methods can help maximize the adaptability and flexibility of sports venues, writes Ken Johnson, a leader in the sports construction industry.
Building a new stadium or arena is a costly undertaking. Spectators and athletes alike demand the best facilities, and creating a venue that enhances the reputation of its home club or city rarely comes cheap. Yet long-term economic viability is also critical. After all, many new stadia are paid for with public money, at least in part. Expensive white elephants are rarely part of the business plan. That's why multi-use facilities are becoming the default option for many new-build projects around the world. Owners want buildings that generate revenue all year round, rather than padlocked gates and empty seats for months or weeks on end.
Innovative, computer software-driven construction methods are making this possible. One such method is kinetic construction, which enables parts of a venue to move or change. Retractable roofs can make a stadium usable throughout the year, despite bad weather. Retractable playing surfaces increase the number of activities that can take place in a single venue. And dynamic façades can modify views in or out to heighten the mood of an event or increase participation. Hunt Construction Group, an AECOM company, is a pioneer in the use of kinetic construction for stadia and sports arenas, delivering a range of complex and technically demanding projects across the United States (U.S.).
As well as building eight of the 11 retractable roof stadia in operation in the U.S., Hunt Construction Group built the first fully retractable natural grass playing surface in the U.S., at the University of Phoenix Stadium, and is currently building the first 360-degree video board, for the Atlanta Falcons.
Up on the roof
Due for completion in March 2017, this new 72,000-seat stadium will host NFL and MLS games as well as concerts, family shows, extreme sports, general public assembly events, stage shows and other special events. An extra 8,000 seats can be added to the stadium for major events like the Super Bowl or FIFA World CupTM.
Innovation
A retractable roof that opens and closes quickly provides tremendous flexibility in hosting a wide variety of events in the stadium.
How it works
Inspired by the circular 'oculus' opening in the Pantheon in ancient Rome, the stadium's unique roof opening is made up of eight petal-like sections that can open in less than eight minutes. The structure is clad in a lightweight plastic polymer, called ethylene tetrafluoroethylene (ETFE) and allows for translucent light into the stadium when closed. ETFE is approximately one percent of the weight of glass, imposing significantly less dead-load on the supporting structure and reducing the structural framework required.
The roof is made up of eight operable panels; triangular and cantilevered 200 feet.
The panels will have linear movement thanks to 64 gravity and 24 up-lift transporter assemblies, creating an 110,000 square foot opening.
In all, the roof weighs 15,000 tons.
The retractable structure is clad in 90,000 square feet of ETFE.
The fixed roof is covered with 500,000 square feet of thermoplastic polyolefin roofing membrane.
This entire roof structure is supported by 19 cast-inplace concrete large columns, 74 drilled piers and 410 auger cast piles for the mega caps.
Pitch perfect
Home to the NFL's Arizona Cardinals, this is a 1.7 million square foot, 63,500-seat, multi-purpose facility. The seating is expandable to 72,800 seats for special events. It also has 88 luxury suites and six levels including a service floor, retractable roof and roll-out 'natural turf' playing field.
Innovation
A unique moveable pitch and retractable roof means a greater variety of sports events can take place here, whatever the weather.
How it works
The stadium's retractable playing field is the only one of its kind in the USA. It allows natural grass to grow outdoors and means the turf can be kept in great condition between games. The turf sits in a 40-inch deep tray, which is mounted on railroad-like tracks. This means it can be brought indoors as required. The stadium's interior concrete event floor can also be used for multipurpose events while the grass surface is outside.
The field weighs approximately 12.75 million pounds and travels 740 feet into the stadium at about 15-feet-per-minute. That's a total travel time of about 50 minutes one way.
It rests on 13 railway-like tracks and is powered by 76 one-horsepower drive wheels. It travels on 340 16-inch-diameter idler wheels and 42 double-flanged guide wheels.
The stadium's roof is fully retractable and it is the first of its kind to operate at an incline.
Its two moving sections sit atop 87-foot-tall, 700-foot-long Brunel trusses. These carry the primary load of the roof to four super columns at each end of the stadium.
The roof panels are clad in a polytetrafluoroethylene (PTFE) translucent fabric.
Each panel rests on eight roof carrier assemblies, two of which are cable drum carrier assemblies that move the panels 180 feet in approximately 12 minutes.
The opening in the roof is approximately 100,000 square feet.
Turning the tables
This 18,000-seat multi-purpose arena is the home of the NBA's Brooklyn Nets and can host major-league basketball and hockey, as well as major music shows circuses and many other non-sports activities.
Innovation
A dynamic loading bay means maximum flexibility with minimum disruption.
How it works
The Center's location in the heart of Brooklyn meant that the usual street-level ramp to a loading dock was out of the question. Yet, with so many different activities taking place all year round, facilities for getting equipment in and out quickly were essential. To address this, Hunt Construction Group built an internal loading dock in the basement, serviced by two street-level truck elevators with a capacity of 80,000 pounds each and a huge turntable. Trucks come out of the elevators onto the turntable, which then delivers them to the right part of the loading dock.
Truck elevators: Rated at 80,000 pounds each, these are 14.5 feet wide and 81 feet deep, operable in -20 degrees to 120 degrees Fahrenheit and maintain a level within 0.25 feet under any loading condition.
The elevators are controlled remotely via computer, or manually via in-car operators.
Turntable: load-rated at 100,000 pounds, with a diameter of 100 feet and a vehicle diameter of 75 feet, it rotates 360-degrees in total and delivers the vehicles at any angle from the truck elevator discharge doors.
The trucks bear on a steel-framed diamond plate deck whose panels are removable for maintenance and cleaning.
Download our See Further App to find out more.