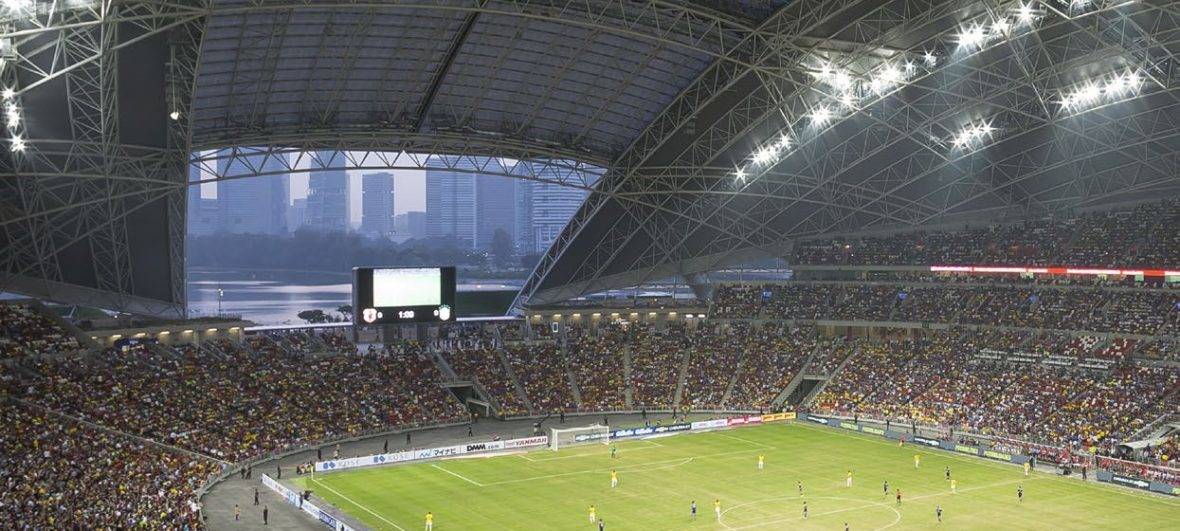 Whether you're an elite athlete striving to achieve at the highest levels of your sport, a member of a grassroots basketball club competing in your local league or if you just want to take time out from a busy life, the Singapore Sports Hub has something for everyone.
Set in a beautifully landscaped 35 hectare waterfront site in Singapore's Kallang basin, this multi-use sports and lifestyle complex boasts a new National Stadium capable of holding 55,000 people, a 12,000 capacity indoor stadium, a 6,000 capacity OCBC Aquatic Centre, a Water Sports Centre and OCBC Arena which consists of multi-purpose arenas. There are shops and restaurants in the Kallang Wave Mall, and even a library and museum dedicated to sports, health and fitness. AECOM led the masterplan and landscape design for the complex, together with Singapore-based partner practice DP Architects and Arup. What makes the Singapore Sports Hub such a unique proposition is that it was designed with both elite sports and community activities in mind.
That vision came from a national strategy — 'Sports Singapore Vision 2030' — that aims to help Singaporeans become more active in their daily lives and nurture the next generation of world-class athletes. A key goal was to make the Singapore Sports Hub a civic space as well as a sporting destination — a place where people can relax, spend time with friends or have a meal. Pleasant, informal surroundings are connected by extensive walkways, which make it easy to get around or link in to local pedestrian or cycle routes. It's all part of a plan to promote physical, mental and psychological well-being among the people of Singapore.
Congratulations on your first year of operation! What have been your key successes over the past 12 months? Oon Jin Teik (OJT): Crowning our first year of operation is the 28th Southeast Asian (SEA) Games, with 7,000 athletes from 11 countries across the continent competing in 36 different sports. We have delivered nearly 100 events in the 12 months leading up to the SEA Games.
The National Stadium alone hosted a World Club 10s rugby championship and a Guinness World Record-breaking orchestral event which included 4,500 performers, as well as our national under-14s School C Division Rugby Finals, and shows by world-famous pop performers like Taylor Swift, Katy Perry and One Direction. In all, more than 700,000 supporters have already poured through the turnstiles to see their favourite bands, local athletes in action, or international superstars like Brazilian soccer player Oscar Neymar.
Many more have used the free public sports facilities or cheered on their friends in many of the local teams who now play here. To achieve these milestones, as we approach our one-year anniversary, I am extremely proud of my team, from the architects and builders through to operations and maintenance. These are the people who made this long-awaited dream become a reality.
What have you learned from a year of operating the Singapore Sports Hub?
Is there anything you would have done differently? OJT: One of the things we have realised as we have entered operation is that managing the Singapore Sports Hub is similar to running a city. You need to have a dedicated and talented team to plan, operate, maintain and manage it on a day-to-day basis, 365 days of the year.
How have you engaged the local community in your activities?
OJT: We are very proud of our in-house community programme, called Experience Sports, which enables people to try out new sports or activities, free of charge. We also host community events in the OCBC Square, an adaptable and flexible space within the central precinct area of the Singapore Sports Hub, which is also close to the local Metro and Kallang Wave Mall.
We screened many of the 2014 FIFA World CupTM fixtures as well as Singapore's National Day Parade here — thousands of people attended. The OCBC Square's modular design also enabled us to reconfigure it into a 'fan zone' when the World Tennis Association finals were held here in October 2014. Jonathan Rose (JR): The local community is a huge part of Singapore Sports Hub and the driver for the masterplan. It was designed to be a civic space as well as a site of major sporting events, and both the facilities and design reflect this. For example, there is a waterfront promenade that is a lovely place for visitors to walk and relax, and connects the Singapore Sports Hub to a network of parks and waterways throughout the city.
How does the Singapore Sports Hub's design help manage this large number of visitors?
OJT: The project was designed as a cluster of different venues within one location, accessible via transport networks and pedestrian and cycle pathways, all of which help prevent congestion and overcrowding. In addition, special ingress and egress viaducts enable us to disperse crowds swiftly and safely, even when the Sports Hub is at full capacity. For example, we hosted a near full capacity crowd of 55,000 at the National Stadium during the Japan versus Brazil soccer friendly. The Sport Hub's design, as well as our experienced venues and maintenance team, meant that the dispersal rate was manageable and smooth. The Kallang Wave Mall also stays open later than usual for big-ticket events to encourage patrons to relax, eat and drink after they have left the Sports Hub.
What elements of your approach would transfer well to other projects in other countries? What can we learn from Singapore Sports Hub that is invaluable to the burgeoning demand for sports facilities (professional and community) across the world?
OJT: It is particularly important that anyone thinking of developing a major sports, entertainment and lifestyle facility considers the needs of the local community, the city and the country in which it is located, rather than simply aiming for high-profile international events.
This community-led approach has been successful with the Singapore Sports Hub. Even more important is the way in which the Sports Hub is the apex of a pyramid formed by sports venues throughout our country. It is a nationwide sports network where every corner of Singapore is 'playable.' JR: Another area that cities should consider is how to create an 'open' public space and achieve the highest levels of customer service while maintaining security. Security is integrated into the Sports Hub's design, but it isn't invasive. The Sports Hub has three tiers of security that can be overlaid, with features such as fast, secure screening gates, pre-screening and comprehensive back-of-house security, depending on the events taking place. These are all balanced with the sense of 'ownership' that the community has for the location and the high levels of service visitors expect.
What does the next 12 months hold for Singapore Sports Hub?
OJT: We will continue to build on the success of the SEA Games and our first year, with an exciting lineup of both community and commercial events. We have three English Football Premier League teams — Arsenal, Everton and Stoke City — taking part in this year's biennial Barclays Asia Trophy at the National Stadium. We are also proud to be hosting the Youth Celebrate Festival, which showcases local youth achievements in sports, uniformed groups and performance arts. JR: Singapore Sports Hub was designed to be a community and sports facility for the next 25 years. The SEA Games is its first peak, but there will be plenty more. As the city grows, the Sports Hub will become a new urban core, positioning Singapore as a major location for sports events, and helping its inhabitants enjoy sports and stay healthy.
Download our See Further App to find out more.