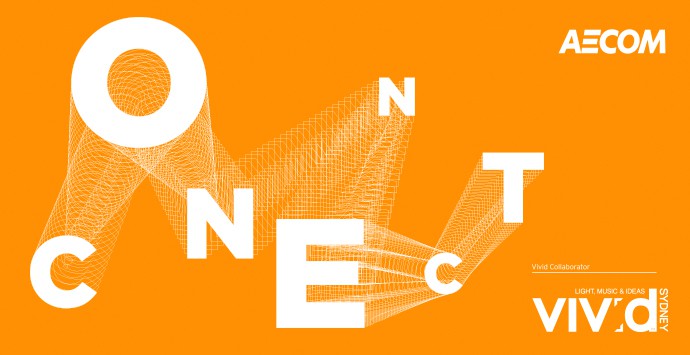 Through a collaboration with Vivid Sydney 2015, AECOM brought together some of the world's brightest minds for the SOLD OUT Reconnecting Sydney event.
On the 4 June at the Sydney Museum of Contemporary Art as part of Vivid Ideas, Reconnecting Sydney combined opinion with vision to create an interactive audience experience to engage government, businesses and individuals in a conversation about the Harbour City's future.
From the city's best vantage point for viewing the Vivid Sydney light installations, a panel discussion featuring leaders from across the media, technology, planning and economics spheres addressed challenging questions on the potential for technology to connect us and enhance the mobility of Sydney:
What are the most significant and disruptive technological changes we will see in the next 50 years?
Are we heading in the right direction in the planning and design of Sydney, in terms of the way we move around the city?
Can Australia's national privacy laws and regulation facilitate socially beneficial uses and applications of big data while stopping "Big Brother" big data practices?
Those attending built their very own 'Vivid City' with an interactive city simulation. Players were challenged to improve the traffic congestion in Vivid City while keeping other key metrics like capital costs, water and energy consumption in balance.
The game was developed by AECOM and creative technology agency, S1T2 with data drawn from AECOM's Sustainable Systems Integration Model (SSIM). SSIM is an integrated GIS-based design, planning and feasibility tool that has been developed to assist decision-makers evaluate the myriad of available alternatives for balancing social, environmental and economic priorities and impacts, while ensuring a sound assessment of costs and benefits.
Listen to AECOM's James Rosenwax discuss the future of Sydney on ABC 702, Tuesday 2 June.
Reconnecting Sydney Speakers
MC
Fenella Kernebone is an Australian TV and radio presenter/producer (ABC/SBS/Radio National/Triple J), and currently the presenter of the ABC's "By Design" program.

Raj Vaswani is Co-Founder and CTO of Silver Spring Networks, a leading networking platform and solutions provider for smart cities and smart energy networks.

Dr Angus Hervey is co-Founder of Future Crunch, an organisation offering fresh perspectives on how humanity is using science and technology to find new solutions to our biggest challenges. Angus is also the Australian Manager of Random Hacks of Kindness, an initiative started by Google, NASA, IBM, Microsoft and Yahoo.

Nathan Bell is Managing Director of Downstream, a global leader in developing unique, digitally-augmented environments and public spaces. He works with a range of sectors on strategies to create experiences and campaigns that push the boundaries of traditional communications.

James Rosenwax is AECOM's Managing Director, Design and Planning – Australia and New Zealand. He leads a team of 150 specialists in planning, urban design, master planning, landscape architecture, and strategic business consultancy. James is a leading thinker in urban development strategy and precinct-scale public realm projects.

Dr Tim Williams is CEO of the Committee for Sydney and commentator on the impact of digital media on communities, public services and businesses. Tim has served as a special advisor on urban development, governance, city strategy and planning to five successive UK cabinet ministers, and to the Mayor of London.

Francisco Urbina is Manager of Alliances for Esri Australia, a supplier of enterprise location technology in Australia. The company provides organisations with the Geographic Information System software and technical ingenuity to get more out of their data using the common factor of location.

Ben Grubb is at the forefront of technological innovation as the Technology Editor at Fairfax Media. He has a strong focus on technology legislation, privacy and metadata issues.
About Vivid Sydney
Vivid Sydney is an 18-day festival of light, music and ideas, the largest of its kind in Australia and the Southern Hemisphere.
The May 22 to June 8 event will feature an outdoor "gallery" of extraordinary lighting sculptures including the spectacular illumination of the Sydney Opera House sails, a cutting-edge contemporary music program and a comprehensive program of talks, conferences and events focused on turning inspiration into action.