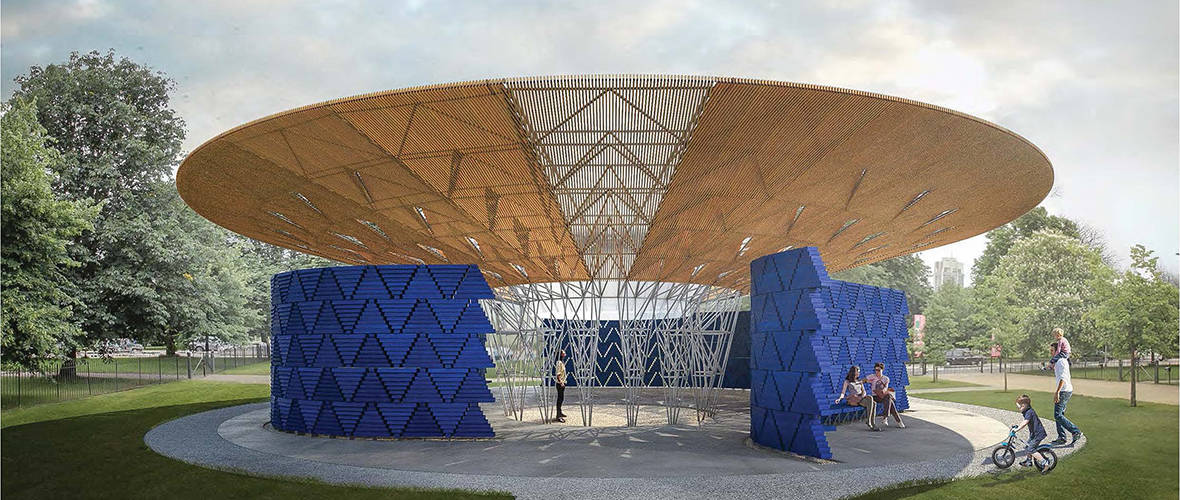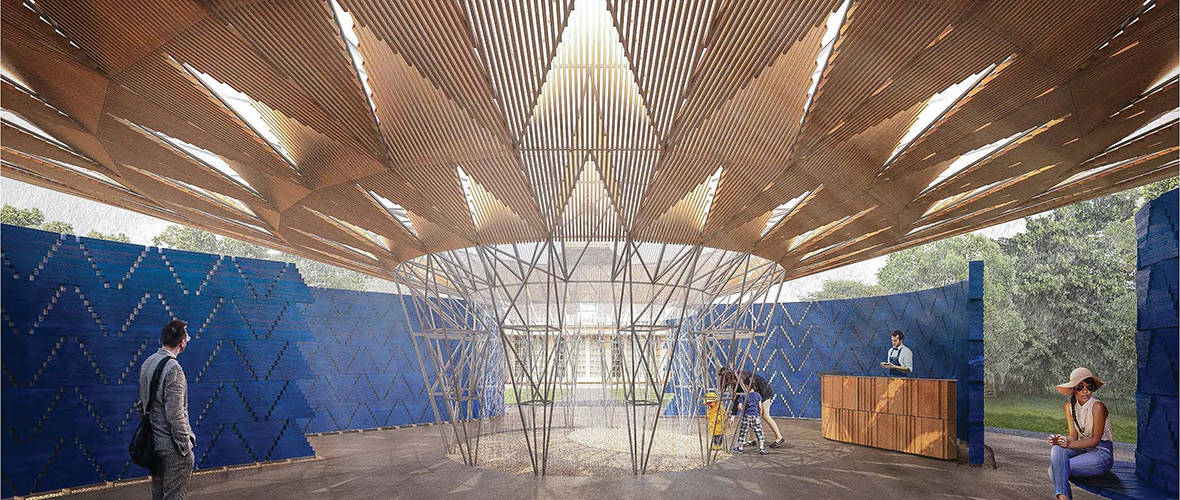 From vision to reality
With just weeks to deliver this year's Pavilion, collaboration and the use of digital technologies were fundamental to driving the creative problem solving needed to complete the structure on time.
Explore the Journey with our interactive timeline
Architect Francis Kéré would often walk to the highest point in his hometown in Burkina Faso, West Africa, and look around to see where the light was, because that was where the party was. Kéré has drawn on this memory, and thoughts of a Baobab tree where people gather in his village, to design this year's tree-like Serpentine Pavilion — a place where people can connect with each other and with nature.
As technical consultant on the project, our role was to turn Kéré's vision into a reality. But with only 20 weeks to deliver the project —six weeks to develop the architectural concept, seven weeks to detail and manufacture and seven weeks to construct — timescales were tight.
AECOM has provided engineering and technical design services for the Pavilion, alongside technical advisor David Glover, Julie Burnell from the Serpentine Gallery and creative construction company Stage One, since 2013. But working with a new architect every year makes each Pavilion a fresh challenge and a responsive process of continuous research and development.
One team
Through collaboration, it was possible to drive the innovation and creative problem solving needed to both bring Kéré's vision to life and ensure speed of delivery: from day one, client, architect, engineer and contractor worked as one, sharing expertise and experience.
To accelerate the construction process and ensure high technical and visual quality, we developed the structure to maximise use of modular components and off-site pre-fabrication. As engineers, this meant carefully refining the design to consider the leanness of each material and how each component would connect to allow for safe installation and durability.
Photo credit: Stage One / Jude Palmer
Digital and traditional processes
Digital technologies played a big part not only in enhancing communication between each team, but also in driving innovation from the start. By creating parametric models of the Pavilion's steel, timber, and polycarbonate cantilevering canopy, and transferring the models into 3D virtual and augmented reality environments, it was possible to immerse ourselves in full-scale simulations of the bespoke design, bringing everyone much closer to the design compared to using traditional hand sketching and small-scale physical models alone.
Experiencing the Pavilion on a digital, human scale meant we could refine and improve the engineering with the architect before physical testing and fabrication started — ensuring speed of delivery, and strengthening our relationship to drive collaborative problem solving.
Working closely with Kéré, our specialist lighting team created digital versions of the final lighting design to visualise how the Pavilion would look from different points of view; our use of low-energy LED strips turn the Pavilion into a warm and inviting beacon at night, mimicking the illuminated houses Kéré would often look for in his hometown, while showing sensitivity to the surrounding natural environment.
Digitally modelling and simulating the structure and lighting in these ways made it easier to fully communicate our technical developments to the wider team, including Westminster City Council building control and licensing agents, fostering collaboration and strengthening the trust so crucial to delivering the project on time.
Physically testing such bespoke designs was a collaborative process too. Full-scale mock-ups of sections of the roof, walls and key connections were built at Stage One's facility to test appearance, durability, weather-tightness, strength and fire resistance. Results were then fed back into the design and construction planning, and used alongside the digital models to fast-track the decision-making process.
Bringing innovation to the industry
Working on the Pavilion for five consecutive years has allowed us to push structural engineering boundaries, including testing new techniques for component-based construction and computational design, and developing ways to upscale them so we can bring innovation to bigger and more permanent building engineering projects and processes.
Engineering the Serpentine Pavilion is an exciting, high-pressured role. With collaboration, creativity and communication at the heart of the project, designing and delivering the Pavilion on time is always achievable. Through this forward-thinking team dynamic, where traditional consultant responsibilities and interfaces become blurred, it is possible to share experience, enthusiasm and expertise to realise the architect's vision and turn it into a reality.