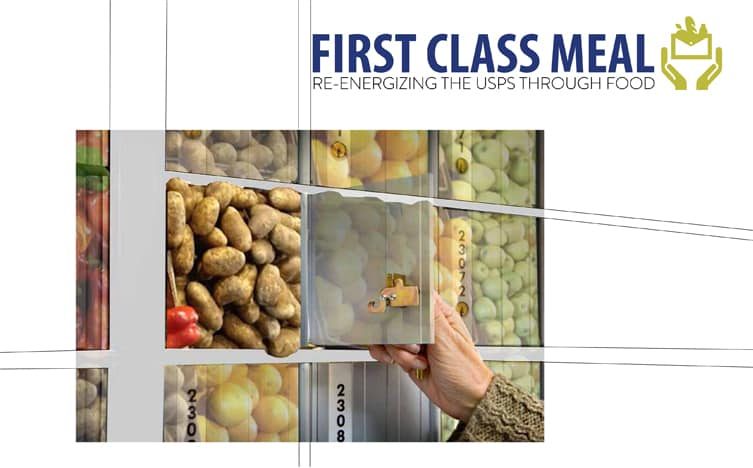 2016 Urban SOS Winner
First Class Meal
Los Angeles, U.S.
The team behind the 2016 winning proposal, First Class Meal, propose using the United States Postal Service's (USPS) distribution infrastructure and building stock to help collect, store and redistribute surplus food to areas with low food access. The benefits? Reducing food insecurity and activating USPS offices slated for closure.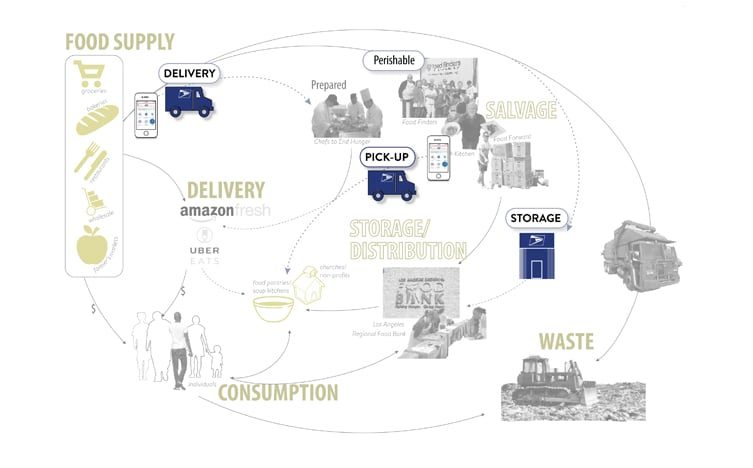 First Class Meal
Los Angeles, United States
First Class Meal would use technology to connect need with supply, proposing that USPS's current package tracking system be evolved so food suppliers can notify USPS drivers when food items are ready for pick-up.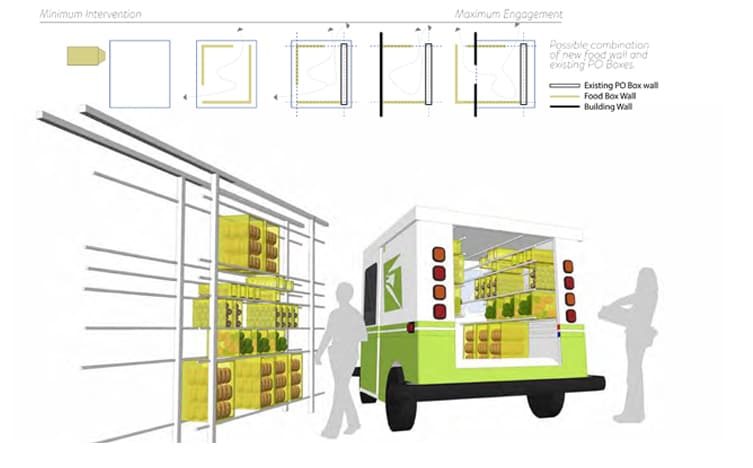 First Class Meal
Los Angeles, United States
Companies such as FedEx and Amazon already use USPS infrastructure to help boost their operating capacity. First Class Meal envisions food banks, restaurants and households doing the same to increase food access in areas of need.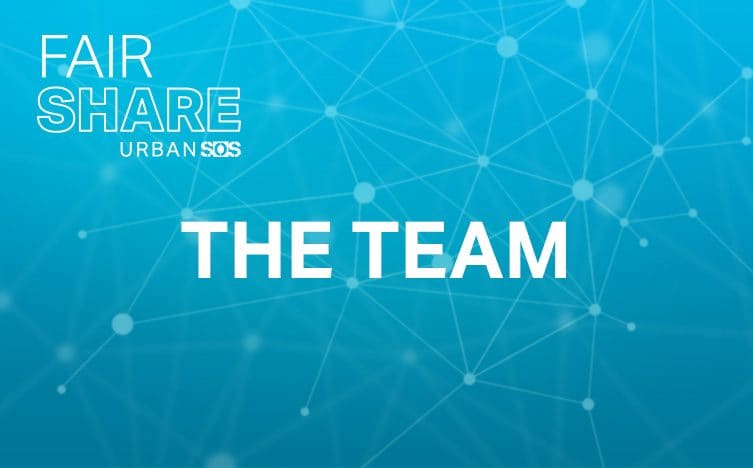 First Class Meal
Los Angeles, United States

Anu Samarajiva, Masters of Architecture, Washington University in St. Louis
Irum Javed, Masters of Public Health, Washington University in St. Louis
Lanxi Zhang, Masters of Landscape Architecture, Washington University in St. Louis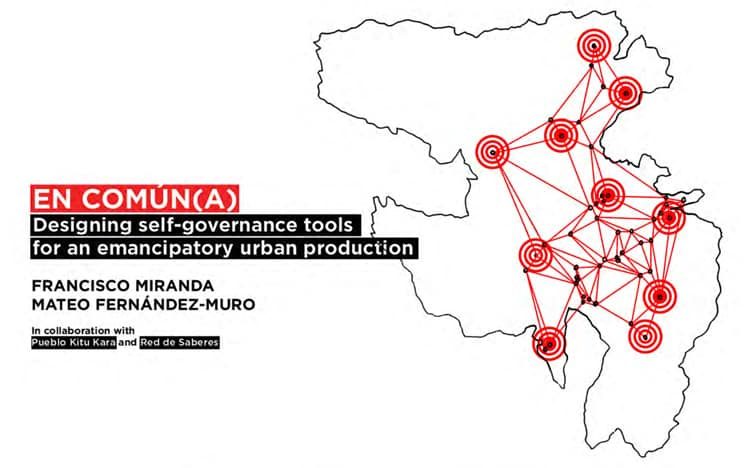 2nd Place
En Comúna
Quito, Ecuador
En Comúna is helping residents of indigenous communes (self-governing territories) in Quito, Ecuador, to share resources, and improve the social and economic infrastructure of their communities. Concurrently with submitting a proposal for Urban SOS: Fair Share, the team has been working with 18 communes to develop En Comúna.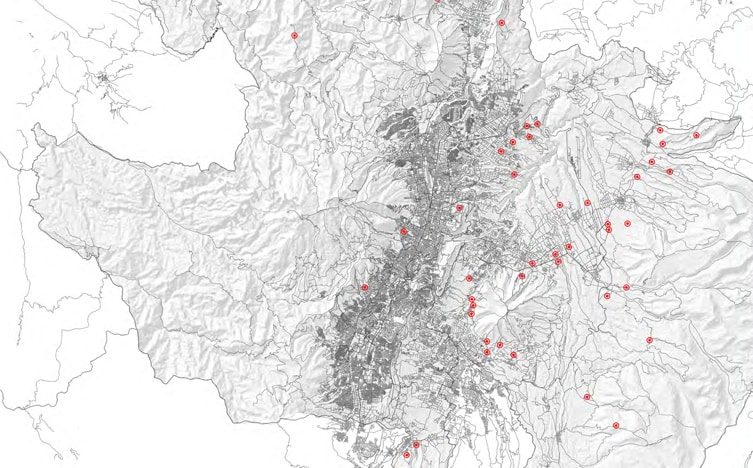 En Comúna
Quito, Ecuador
The team has engaged residents in 18 of Quito's communes to produce a pilot website that maps their needs and resources, making it easier for people to connect and work collectively.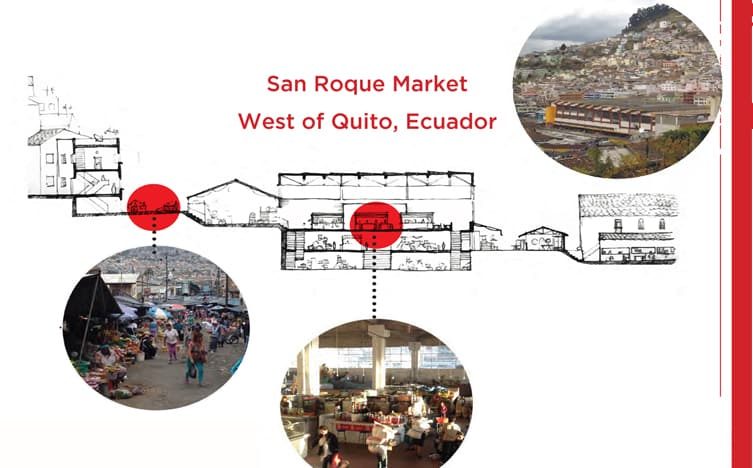 En Comúna
Quito, Ecuador
Ultimately, the idea could help people with a range of community development projects, from creating cooperative banks to building homes and connecting employers with skilled workers.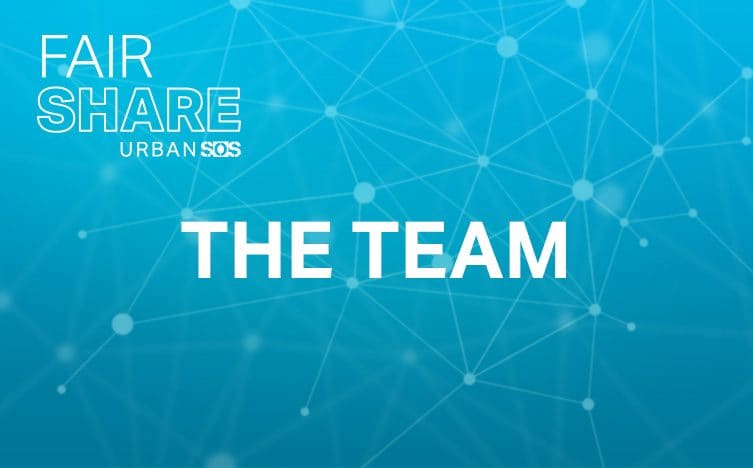 En Comúna
Quito, Ecuador

Mateo Fernández-Muro, ETSAM, Universidad Politécnica de Madrid
Francisco Miranda, Theory and Urban Practices,Parsons The New School for Design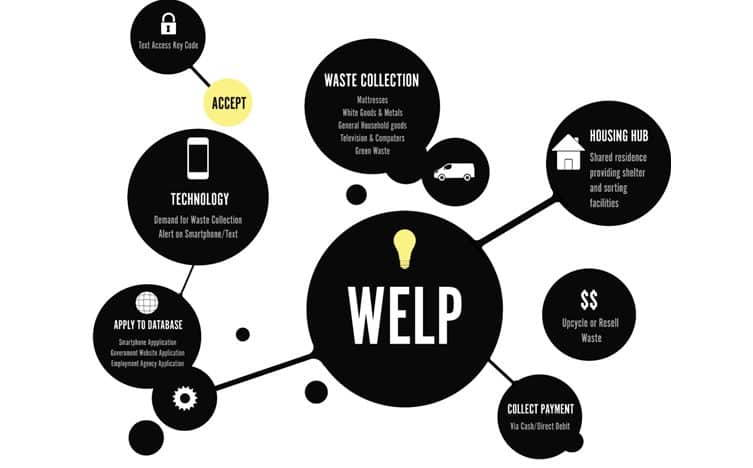 3rd Place
WELP
Durban, South Africa
The Waste-Help System — or WELP — creates a municipal sharing platform for Durban, South Africa, that connects households with waste to collectors who earn income for disposing of it. The proposal improves Durban's specialized waste disposal infrastructure while also providing income and facilities to the city's poor.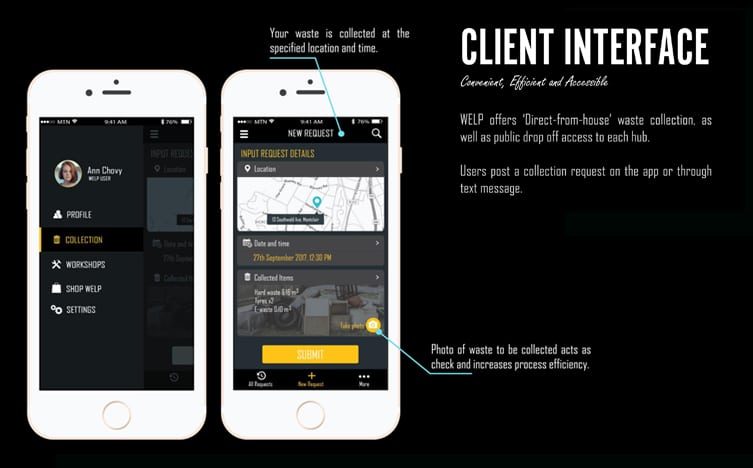 WELP
Durban, South Africa
Households and collectors can find each other through a new app or text messaging service, empowering residents to collectively improve the city's waste infrastructure system.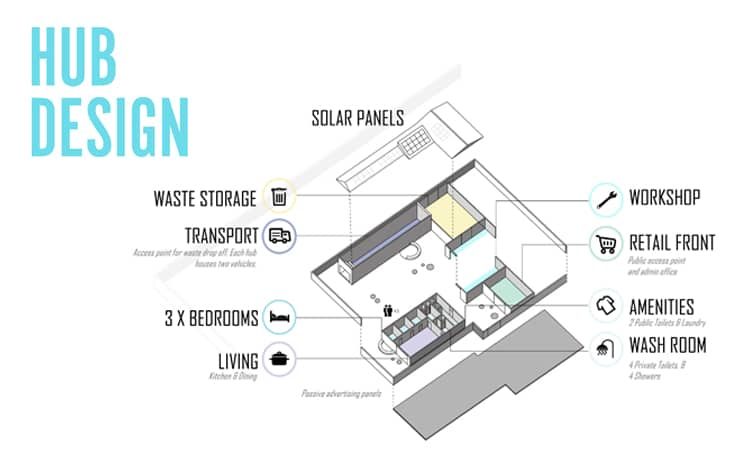 WELP
Durban, South Africa
Collectors bring the bulk waste to five new hubs citywide that also offer vital services to collectors including temporary housing, bathrooms and kitchens.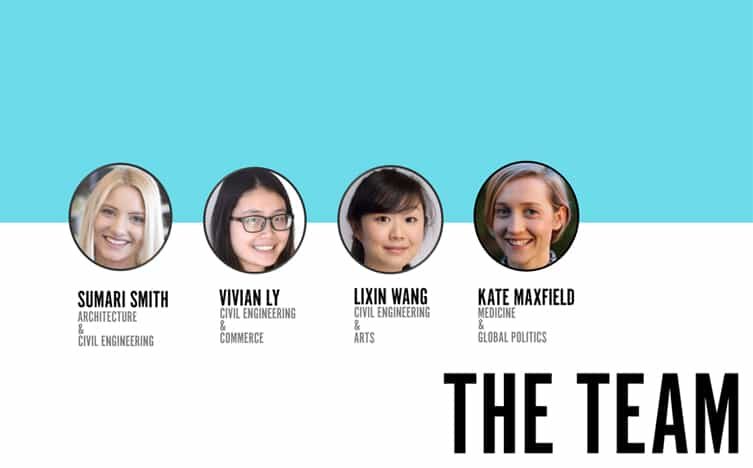 WELP
Durban, South Africa

Mari Smith, Civil Engineering and Architectural Design, Monash University
Vivian Ly, Commerce and Civil Engineering, Monash University
Lixin Wang, Civil Engineering and Arts, Monash University
Kate Maxfield, Medicine and Global Politics, Monash University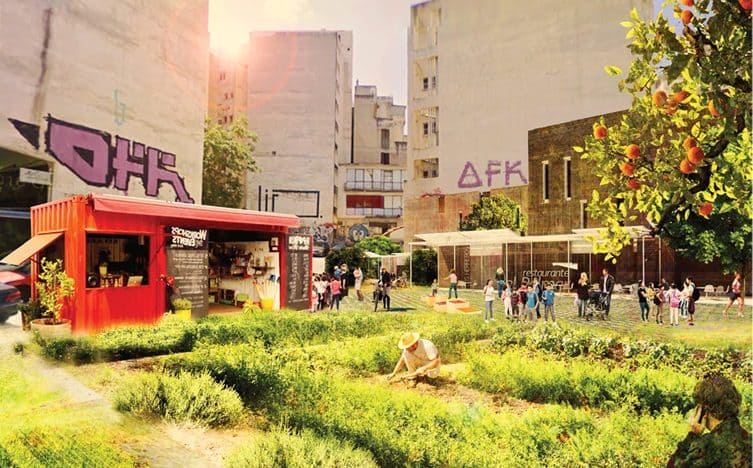 Honorable Mention
The Living City
Athens, Greece
In 2016, the number of refugees worldwide reached its highest number in history. Capitalizing on vacant buildings in Athens and the influx of migrants, The Living City aims to create a common space of commerce and services where refugees can contribute and adapt to their new communities.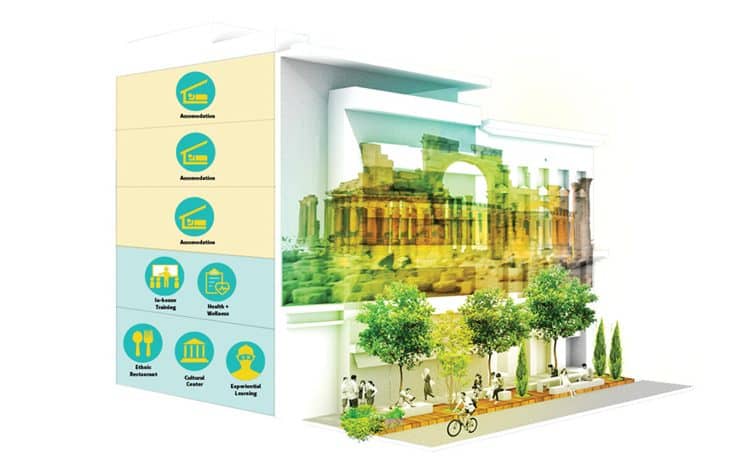 The Living City
Athens, Greece
The Living City proposes revitalising abandoned building stock in Athens, beginning with the Exarcheia neighborhood, creating a hub focused on culture and food production.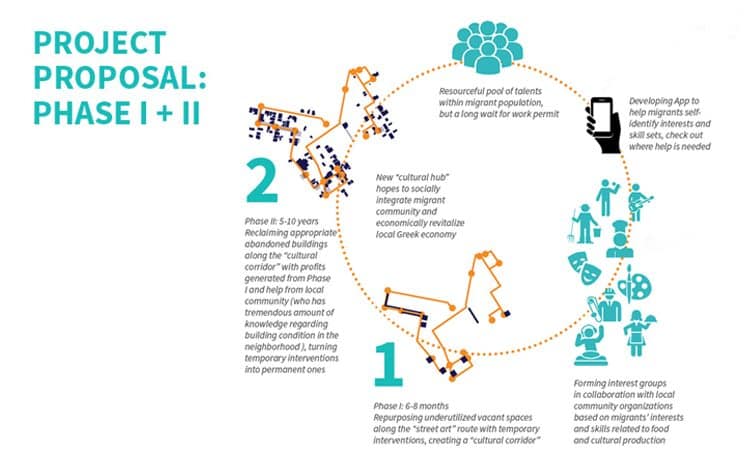 The Living City
Athens, Greece
An app would help refugees to connect to the development, allowing them to self-identify interests and skill sets, and to see where help is needed.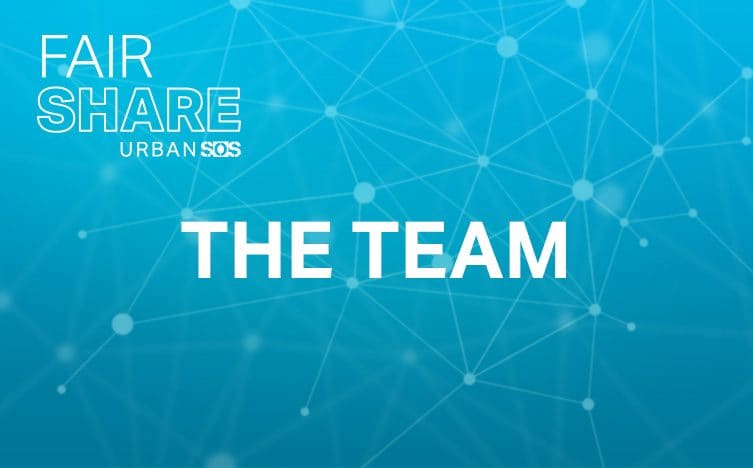 The Living City
Athens, Greece
Ho-Ting Liu, Landscape Architecture, Harvard University Graduate School
of Design
Faranak Khas Ahmadi, Landscape Architecture, University of
California — Berkeley
Anduriña Espinoza, Migration Studies, University of Oxford
Jenny Kyung Jin Lee, Public Administration in Development Practice, Columbia University