#CoolJobs: Working at One World Trade Center
From a young age, my parents encouraged me to "choose a profession that makes you want to get up in the morning and want to go to work." I finally understand what they meant and have found that "dream job" as a project manager. As a native New Yorker, being part of the One World Trade Center (1 WTC) project team is an accomplishment and opportunity that has motivated me to go to work every day and put 100-percent effort into everything that I do.
My project team has so much to be proud of. Together, we built 1 WTC, which stands as both a monument of respect to the fallen heroes of the September 11, 2001, tragedy, while also representing a symbol of freedom that will forever change the skyline of New York City.
On the morning of September 11, 2001, I was in high school in Staten Island. My former track coach, a friend's mother who worked in the building, and another friend's father who was a firefighter, were among the many who lost their lives that day. Rebuilding the World Trade Center has multiple meanings for me, but most important, I feel like it is the small contribution I can offer to New York City and to those who lost loved ones during the tragic event. My role in the construction of 1 WTC makes me proud. It is something that will always have a special place in my heart, and I look forward to sharing my story with my future children and grandchildren.
In addition to the importance of this project, one of the most-rewarding aspects of my job is the people I work with and the knowledge I gain and share in the process. My team is supportive, entertaining and nurturing — much like a family. We can make jokes, laugh and speak freely because we are all passionate about our jobs, and we care about each other as well as the project. Sometimes, we give each other compliments for a job well done; other times, we have to be honest with one another about something that could have been handled differently. At the end of the day, we treat each other like family members and take pride in our work. One person's accomplishment is an achievement for the entire team, and we celebrate that.
What I especially like about my job is the unpredictability. Some days, I'll go into the office wearing a dress and heels, but I leave wearing pants, a hard hat and construction boots from the site. I never know when I'll need to make a quick run to the site to meet a contractor or go through any outstanding tasks with the field team. The days go by so fast because I am trying to multitask and handle several different things at once. However, I enjoy the spontaneity of my job because it keeps me accountable for finishing tasks quickly and effectively.
1 WTC is an extremely complex building with many different systems and components. Learning all the details can be challenging, but the fact that knowledgeable people are willing to share their expertise makes working enjoyable. I remember taking a coffee break with one of my coworkers, and we began discussing fan coil units. I wasn't familiar with these, but I was interested in learning how they work. My coworker explained the system and showed me a unit in the field. Before I knew it, I began to better understand the discussions about fan coil units as they came up during weekly meetings. That is the beauty of my job — we share information, and we grow personally, professionally and intellectually along the way as a team.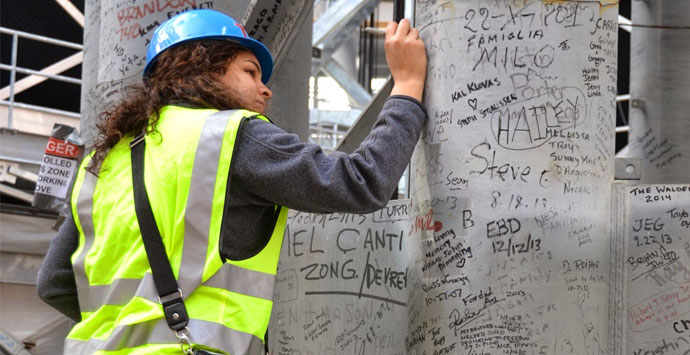 I feel very lucky to have a "cool job." I think the positive office culture and the acknowledgment that "we are in this together as a team" makes my job gratifying. In the past three years working at 1 WTC, I have developed friendships that I will always treasure and have grown as a person. Working with people from all walks of life and being involved in a large and impactful project has been a privilege and an opportunity that makes my job awesome.

Carolyn Caranante works as an architectural project manager at One World Trade Center in New York City for Tishman Construction, an AECOM company. She is a native New Yorker and is currently in the process of obtaining her Registered Architect license. Carolyn's interests include traveling the world, creating art, gardening and spending time with her family.
LinkedIn: Carolyn Caranante