Designing for the 21st-century student in Southwest Virginia
Designing for the student experience today requires an understanding of a wide range of principles far beyond the design of a traditional classroom facility. Flexibility and holistic innovation have become key to meeting the challenges of today's learning environments. Where and how students learn, plus the collaboration and support they receive, is just as important as what is being taught.
The Virginia Tech Carilion School of Medicine (VTCSOM) and the Fralin Biomedical Research Institute (FBRI) in Roanoke, Virginia, are two institutions designed by AECOM that have incorporated key principles of collaborative learning, community engagement, and equity, diversity and inclusion (ED&I) values within the building design to enhance the typical student experience.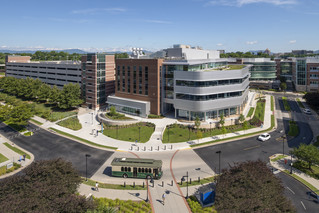 Designing a collaborative learning space at VTCSOM
Students who make the commitment to accept the academic rigors of medical school have intense and unique demands on their lives and learning experiences. These challenges must be addressed in novel ways as they train to become esteemed stewards of healthcare within our communities.
The design of the educational spaces in the VTCSOM is directly linked to the school's teaching mission, which is based on small group learning and a curriculum which focuses on four domains: basic science, clinical science, research, and health systems science and interprofessional practice. The school's unique design houses lecture and lab spaces, but most importantly, numerous smaller collaborative team rooms that maximize self-directed and experiential learning. A recent report from the Association of Public Land-grant Universities (APLU) found that this type of experiential learning is and will continue to be vital to student success.  At VTCSOM, smaller teams are a hallmark of the program, providing a critical component of student learning that allows students to analyze and evaluate patient cases, while colleagues and instructors continually assess student performance.  In addition, smaller group sessions are beneficial in fostering a more inclusive and engaged learning experience. This team-based approach to academics also translates to actual medical practice where many of today's specialties rely on team interaction. Anecdotally, students often comment that the smaller class size is unique among medical schools and allows instructors to become invested in their academic success.
This carefully designed learning environment has directly contributed to the school's extremely high match rate between students and their residencies of choice, a rate which is 99 percent for all eight of its graduating classes.
Engaging through art
The atrium is one of the many ways the building itself fosters engagement among the students, faculty and the surrounding community, and is a driving philosophy of the medical school.
Designed specifically to exhibit local and rotating art installations, the atrium allows artwork to be easily transported in and out of the building. This design feature has given birth to a unique Creativity in Health Education program that showcases curated pieces from members of the thriving local art scene in the New River and Roanoke River Valleys. As a key design component of the program, the atrium not only provides exhibit space for local artists but also a place for underrepresented voices throughout the community, a testament to the institution's commitment to diversity.
The atrium is also emblematic of the WELL Building Standard, the first performance-based rating system to focus exclusively on measuring, certifying and monitoring features of the built environment that impact human health and wellness. One of the tenets of the WELL Building Standard is Beauty and Mindful Design that work to create "a beautiful and meaningful space in which design aesthetics are expressly considered have a positive impact on occupant morale and mood."
The art space is used extensively and is intensely supported by the administration including Dr. David Trinkle, associate dean of community and culture. "Art can enhance a person's adaption to illness as well as promote recovery," he said. "We hope that the programs and shows that we feature at our school reinforce a holistic, patient-centered approach to healthcare that will benefit the students as well as the community as a whole."
In 2013 Jane Lilian Vance, an acclaimed artist in Blacksburg, Virginia, was chosen as VTCSOM's first artist-in-residence. During her residency, she painted in the hospital setting for three months, creating a series of paintings called the Trinity of Healing Hands, and her photo-realistic paintings became an integral part of the medical student's curriculum.
Art has continued to be a centerpiece of the medical school's outreach program. When the coronavirus outbreak occurred, the Creativity in Health Education program showcased an exhibit entitled "Hey There, How Was Your Pandemic?" The exhibit explored explore how some of the community's local and regional artists channeled their creativity into artfully expressing the challenges of living through 2020.
FBRI at VTC ushers in a second decade of designing for the student experience
More recently, the Fralin Biomedical Research Institute (FBRI) at Virginia Tech Carilion formally opened on Oct.12, 2021, and is at the forefront of design that enhances the student experience while also promoting sustainability.
The LEED Silver-certified building boasts state-of-the-art sustainability features, including a green roof meadow garden that prevents flooding. Rainwater captured on the roof is recycled and reused, cutting the facility's water consumption by two-thirds. The rainwater capture system is concealed beneath a paver system that creates a very useful exterior public space adjacent to the main lobby. This exterior public space is linked to the lobby by a two-sided fireplace that can be appreciated from both the interior lobby space and the terrace. Students and faculty can also revel in the flowers and plantings on the roof top garden in addition to the wildlife the flora attracts throughout the day. This in turn enhances emotional and psychological health through a biophilic connection with the natural world.
The lobby of the $90 million, 139,000 square-foot expansion is purposefully designed to promote strategic "collisions" and conversation, fostering cross-pollination of ideas, and indeed, this is a cornerstone of the design philosophy at FBRI.
The expansion gives students access to state-of-the-art biomedical research laboratories, high-end instrumentation and core facilities. The expansion also houses the Virginia-Maryland College of Veterinary Medicine Animal Cancer Care and Research Center. Designing the building to house a veterinary research and clinical care center not only allows for substantial translational research to occur between human and animal medicine, but also fosters the relationships between student researchers in vastly different fields such as cardiovascular disease, infectious disease, cancer and neurorehabilitation.
The state-of-the-art research facilities at FBRI also allow ample opportunities for undergraduate, medical and graduate students to engage in novel research in the biomedical field.
A goal of the curriculum is to develop scientist physicians and to that end, immerses all medical students in the language, culture and practice of research.
To cultivate the practice of research, the library is uniquely designed to support data analysis. There are no permanent bookshelves onsite. Students and researchers conduct information gathering online through an inter-university shared system that delivers books to the library if a hard copy is requested. Otherwise, students and researchers connect with materials online. Instead of holding books, the cutting-edge space accommodates the Data Visualization and Fusion Labs. Here, researchers and students receive assistance from data analytics support staff to translate the immense volumes of data into graphic and relatable material for lay, medical and academic audiences.
The research institute's faculty currently provides training and mentorship to 130 Virginia Tech graduate and medical students who are conducting groundbreaking research.

As higher education increasingly needs to address the various dimensions of wellness of whole student development, designing spaces for learning will need to incorporate holistic practices that are grounded in collaborative, community-focused strategies for not only learning, but also living as part of the greater community.