Image courtesy of: http://mergefestival.co.uk/merge-2013/2013/9/19/bankside-transformed
What is the one thing you'd like to do before you die? Candy Chang – artist, designer and urban planner – lost an important person in her life, and her grief led her to ask this question of the public as part of an installation on an abandoned house in her hometown of New Orleans. The public response ranged from answers hand-written on the house, and feedback on photos shared by Chang online, to replica installations in cities all around the world. Chang recently shared her experience at the Sydney Vivid Festival of Ideas, one of a number of events attended by the Strategy Plus team.
Chang also spoke about how she had been guided into her field through what she called 'creating your own discipline', the bringing together of a person's unique skills and interests to provide a distinctive offering. Chang's work uniquely connects public spaces with her identity and sense of self, and unashamedly expresses personal aspects of her character and life experience. Chang frequently referred to Jung's process of 'individuation', or discovering one's true self, as a guiding factor in her work.
Personal identity is often suppressed in the workplace in favour of corporate brand, with work-specific clothing, focus on 'objective' interactions, and bland – and often sterile – office environments. Recent years, however, have seen our professional and personal lives increasingly blend together. In our Strategy Plus practice, we increasingly see people seeking opportunities to create their own disciplines through bringing personal interests into their work.
A common example of this blending is the rise in social media use – people are willing to publish personal and professional information on the same blog, Twitter, LinkedIn or Instagram account. Another is the prevalence of BYOD (Bring Your Own Device), where people can use their chosen device for both business and personal use.
Organisations are increasingly recognising the benefits of having a workforce empowered to bring their authentic selves to work, illustrated by the rise of community managers in the workplace. A deliberate approach to community management in the workplace is becoming even more important with distributed and agile workforces.
The personal experience of work was a common theme in some of the other Vivid talks in Sydney. In Scoring in the Workplace: Curating the ultimate workspace experience, Gauri Bhalla from the UTS Business School spoke about how important it is for workplaces to promote personal authenticity and expression of identity through  providing increased flexibility.
GPT's Sam Nickless, in The Big (SHIFT) to Smarter Working, articulated the value of internal social media as a key tool for building community in the workplace and breaking down hierarchies by democratising the flow of information. Workplace connections are now created through both business and social imperatives.
The divide between the personal and the professional elements of identity has been further disintegrated in a residential and mixed-use building recently designed for Antwerp by architects C.F. Møller & Brut. The concept is for a built environment which reinforces the blend between residential and office environments, and a key feature of the building is a rooftop terrace where both residents and workers can mingle.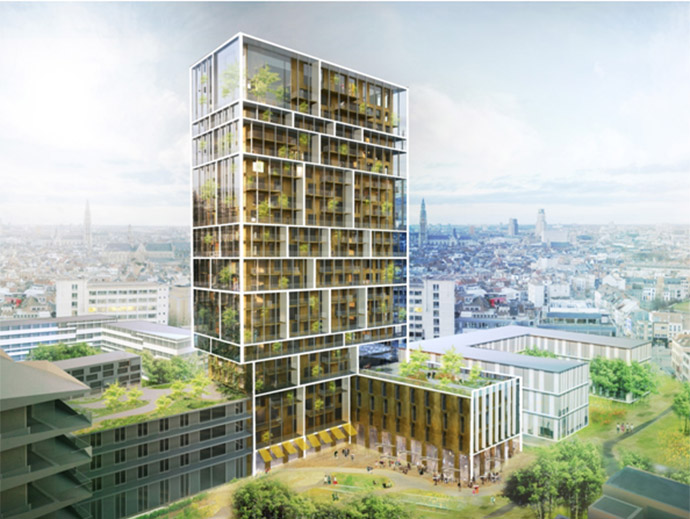 Image: C.F. Møller & Brut
Rather than work crossing the boundary into personal life, there are more opportunities for people to bring their authentic selves into the workplace. Increased flexibility allows for customisation of the workplace to suit individual needs or desires, and environments where ad-hoc encounters and increased interactions are encouraged provides further opportunities for meaningful personal contributions.
Do you feel as though you are empowered to bring your authentic self to work, and if so, how do you do this?
Are you going to share this blog on your personal or professional social media accounts?

Monica McClure (monica.mclure@aecom.com) is a consultant with AECOM's Strategy Plus practice in Sydney, and makes friends at work by sharing her fancy tea collection. If you're not close enough for a cup of tea, you can still connect with Monica on LinkedIn or by email.
This blog was co-written with Monica's tea buddies Aurora Braddon and Charlotte Fliegner, also consultants with AECOM's Strategy Plus practice in Sydney.