Playful office design: all in the details
The clichéd foosball table, dreaded bean-bag or obligatory slide … some people think of these when you say "playful office design". I wondered how we could get beyond these when I was recently invited to give a talk, in the heart of the London design community in Clerkenwell, on that theme.

I began with some high-level findings from the insightful BCO piece Nicola Gillen and June Koh produced (Technology, Media and Telecommunications, BCO), followed by a couple of case studies where we delivered both the strategic vision and design, pointing out the link  between the influence of new ways of learning and what the next generation are expecting in the workplace.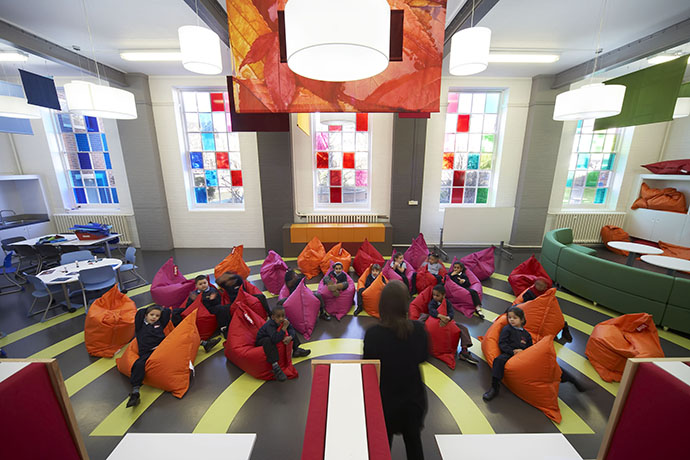 I also highlighted a point very dear to me – good design (can be playful and) needn't be expensive.  The age-old cliché holds true: 'it's all in the detail' – I often discover great examples of doing a lot with little, for example the 'DO NOT FEED THE RECEPTIONISTS' sign pinned up in a leading advertising agency's reception.  It's a simple A4 printed piece of paper mounted with blu-tak, super-cheap yet very effective, instantly describing the culture and tone of voice of the organisation, the minute you walk through the door.  In our own office here at AECOM, we have a completely un-high-tech solution for seeing who is in and who is out-and-about: little printed portraits of everyone in the team, magnetically pinned to a writable surface (see image below). I'm not suggesting either of the above are right for every organisation, but I am certain that low-cost, meaningful design touches can be tailored for every organisation.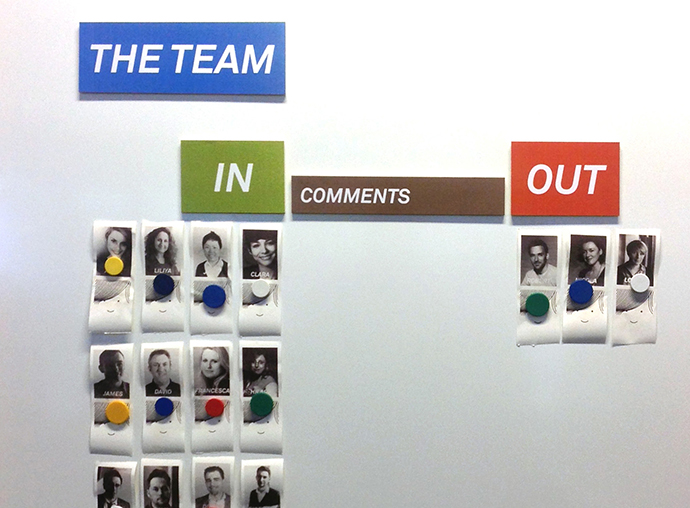 My final point to make was the notion that 'playful' design needs to have more substance than the clichés. When we were children, we spent the vast majority of our time playing, in particular role-playing – we created and imagined scenarios, environments, characters and even whole worlds. When you think about life as a designer, we continue to do this: we spend our days pretending to be the client, customer or user, in order to propose the best design solutions. The most successful of these, in my opinion, are the collaborative spaces where you get the 'right' people coming together to do the "5 Ds" – discuss, discover, design, develop and deliver.
To do all of this, we need to create environments that encourage creation and discovery, without fear of failure or rejection, because it is precisely this fear that leads to conservative solutions and a lack of innovation.
Tim Brown (CEO of IDEO) discusses this notion of 'play' and its importance in a talk from a few years back – I'm not sure I particularly agree with everything he's saying but he raises some interesting points (watch it here).
I'd be interested to hear more thoughts on this – please comment below and feel free to contact me if you have any questions about the talk or the subject.

Gavin Hughes (gavin.hughes@aecom.com) is an associate director of design with AECOM's Strategy Plus practice in London.