National landmark in Long Beach
Image courtesy of Long Beach Judicial Partners.
The new Governor George Deukmejian Courthouse, located in the redevelopment area of downtown Long Beach, California, opened its doors for operations on September 9, 2013. The project's developer, Long Beach Judicial Partners, LLC (LBJP), a Meridiam Infrastructure project company, was pleased to announce that its design/build team of Clark Construction and AECOM completed this landmark 11 days ahead of schedule and under budget.
This 530,000-square-foot building, constructed at a total cost of $495 million, including financing, is the first social infrastructure public private partnership (PPP) of its kind in the United States. This project delivery approach, under which a private entity (in this case LBJP) finances, designs, builds, operates and maintains the asset, is well established in both Europe and Canada, but had not been previously attempted in this country outside of transportation infrastructure projects.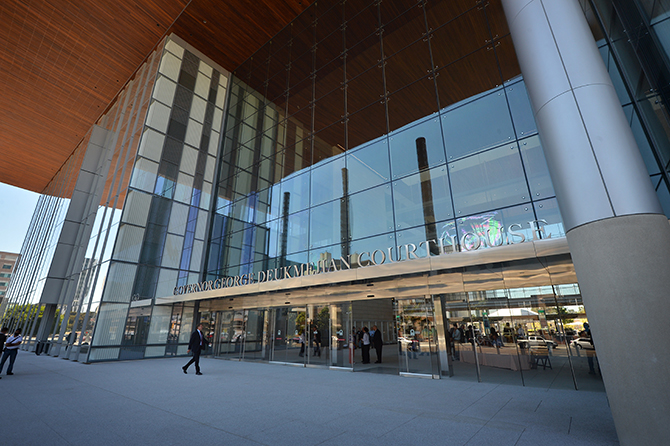 Image courtesy of Long Beach Judicial Partners.
What is unique in this approach is that the public entity (in this case the State of California's Judicial Council/Administrative Office of the Courts) makes "availability payments" over 35 years. The state expends no funds until its first monthly payment (service fee), which was due LBJP only after the building's completion. The state assumed full ownership of the building upon occupying it. Availability refers to the unusual contractual condition that if any area of the courthouse is unavailable for longer than two hours' time, an appropriate deduction is made from the service fee. This incentivizes the private partner to design the building for endurance and to operate and maintain it in excellent condition both in the short and long term. The building must also be turned back to the state at 85% of new condition in 35 years.
Think of a mortgage payment that also includes maid service, a gardener, and an on-duty handyman who replaces worn out building systems as your house ages!
From a programmatic perspective, the building is home to 31 civil and criminal courtrooms for the Superior Court of Los Angeles County, as well as extensive court administrative space, a secured sallyport leading to the sizable basement detention center for in-custodies, judge's chambers, and jury deliberation and assembly areas, all of which occupies approximately 415,000 square feet. Five County of Los Angeles justice agencies lease 100,000 square feet in the building. Public amenities include a large, architecturally striking secured courtyard with fountains and a lush landscape, as well as a food court and convenience store.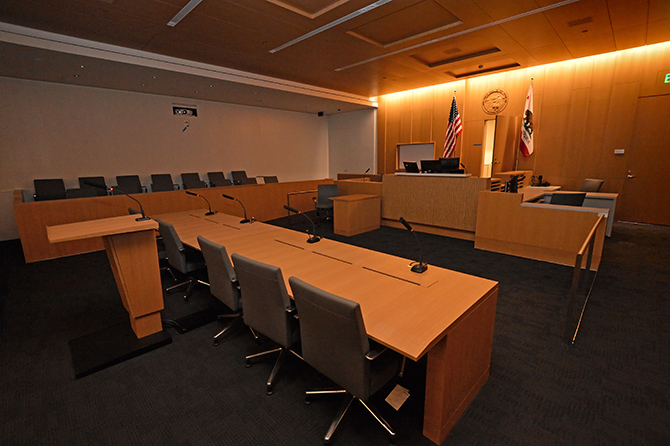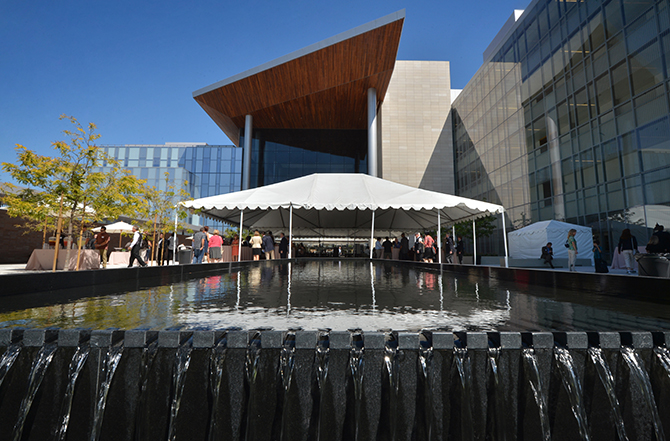 Images courtesy of Long Beach Judicial Partners.
The courthouse, on its expansive six-acre site, will act as a major redevelopment catalyst for downtown Long Beach. The urban design is especially successful, with major building elements scaled to the density of surrounding existing land uses, ranging from one to five stories accordingly. Rich ipe wood, which clads the dramatic canopies projecting out at either end of the building's great hall, continues through the ceiling of the interior. The courthouse's massing is both dramatic and civic in nature. Some have mistaken the building for a museum or performing arts center.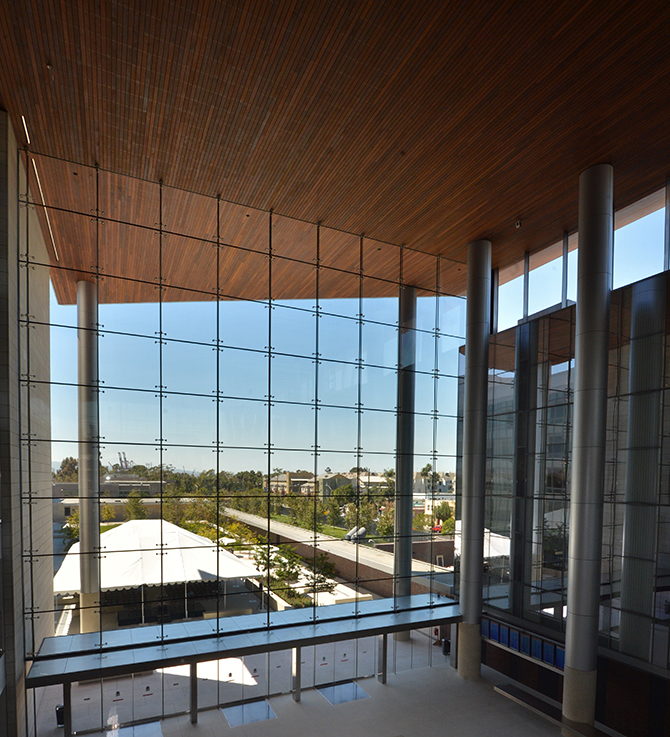 Image courtesy of Long Beach Judicial Partners.
And speaking of art, two major public art pieces are especially effective. Four 60-foot "Air Columns" by artist Ned Kahn mark the building's entrance, with hundreds of anodized aluminum vanes spinning and creating complex patterns in response to climatic conditions.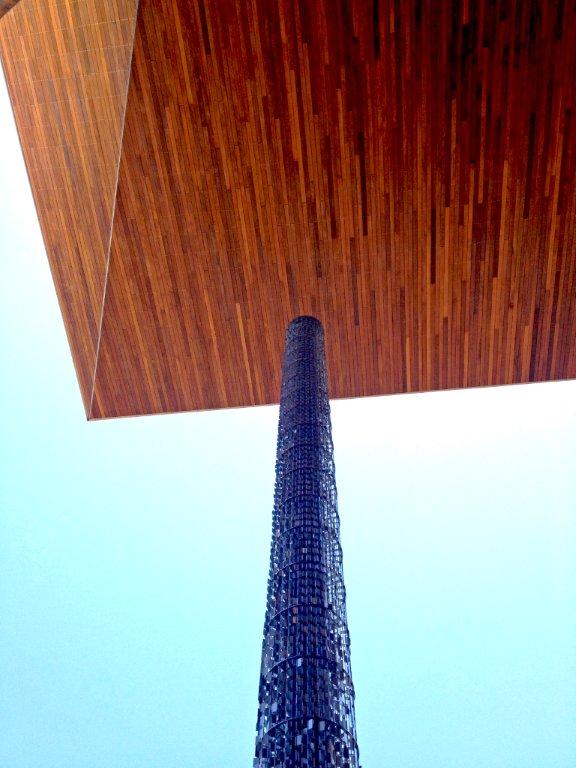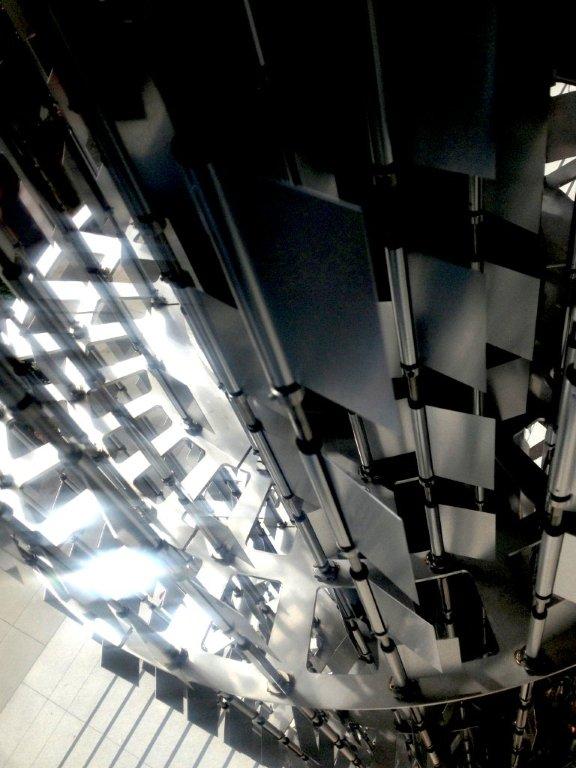 Images courtesy of Ned Kahn.
Upon entry, Jennifer Steinkamp's massive LED installation, "Murmuration," depicts vividly colored feathers dancing in wild abandon, in contrast to the solemn judicial proceedings that lie beyond.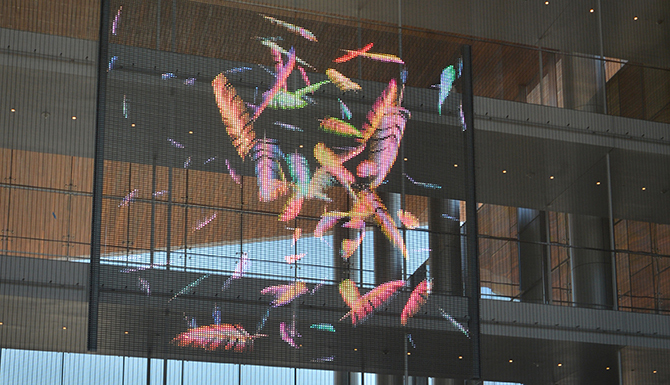 Image courtesy of Long Beach Judicial Partners.
Stephen Reinstein is CEO of the Long Beach Judicial Partners.