Next-gen design for airport lounges
When it comes to airport terminal design, one of the areas currently experiencing the most dramatic transformation is the departure lounge. With airports fast becoming destinations in and of themselves, lounges are shedding their reputation as merely a place where passengers wait to board a plane. Today's lounge is a hub of engaging experiences that create a stress-free environment, while serving the diverse needs of passengers.
While some more recent design changes reflect the need to mitigate spread of the coronavirus in public settings, lounge areas had already begun to reflect the shift toward better accommodating passenger needs with more spacious and varied seating options. The rigid, linear airport seating patterns that have been a hallmark of aviation design for decades have given way to a lounge design that increasingly embodies the ambience of the airport's "living room." Indeed, the lounge area today is complete with all the comforts and conveniences of home.
Over the last decade, the layout of the departure lounge has become more open and outfitted with more technological amenities, including everything from advanced offerings for Wi-Fi and charging stations, to iPads that allow passengers to order food from the comfort of their seats. Retail outlets and eateries have also grown around the departure lounge as airport administrators have increasingly built relationships with these service providers. These amenities not only provide entertainment, shopping and restaurant services, but also enhance the sense of place at the airport by reflecting the community and its local character. Travelers are as likely to see iconic restaurants and local stores at the airport, such as Legal Seafoods in Boston's Logan International, as they are when exploring the city center.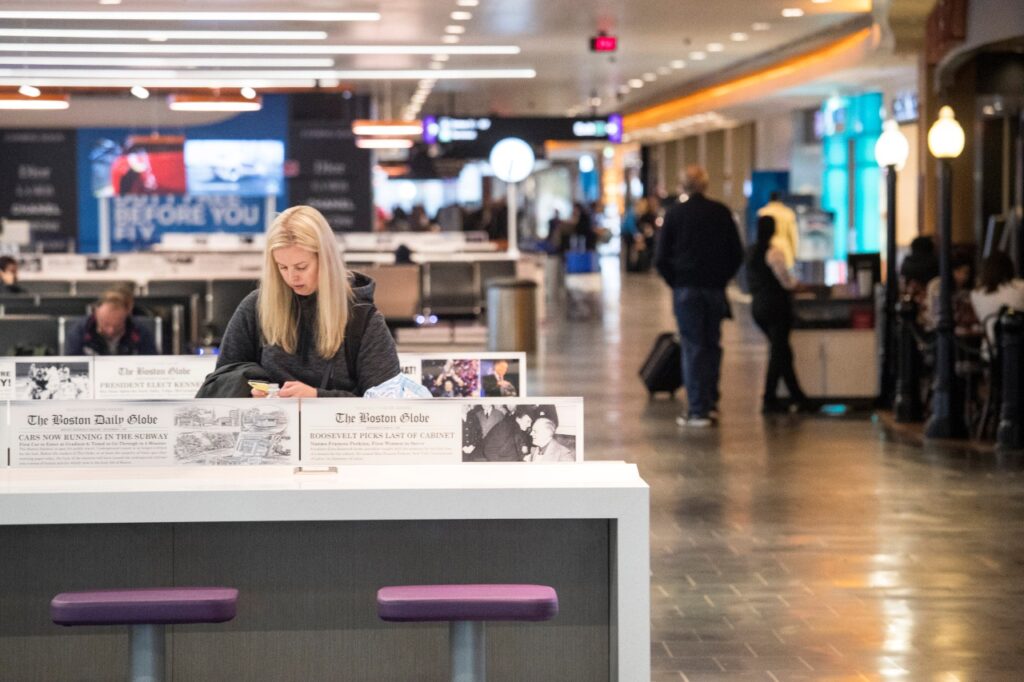 How do we envision the airport departure lounge in the near future?
While design of departure lounges will continue focusing on enhancements that safely reintroduce traveling into our post-pandemic lives, the future passenger journey will also incorporate an unprecedented level of comfort and personalization. Most importantly, we envision the design of the airport departure lounge to be equitable, varied and flexible, and customized to meet the needs of a wide range of travelers ⁠— in effect, allowing the journey to start even before passengers get on the plane.
The lounge area at Boston's Logan International Airport Terminal A380, completed by AECOM, is an outstanding example of strategic design planning combined with essential passenger-customized comforts. The award-winning terminal includes numerous hold rooms with bright, energy-efficient LED lighting and a variety of seating options, including comfortable, inviting lounge chairs and grouped seating to accommodate small parties of travelers or families. While seemingly minor, these design changes greatly contribute to creating a calm, relaxed atmosphere.
Charging stations that are fully integrated into furniture provide convenient power outlets and allow passengers to remain digitally connected before their flight. Individual workstations provide business travelers with the ability to be productive until they board their plane.
The future of departure lounges holds even more potential for individual customization in the seating area. Prior to boarding, passengers could save seating, lighting and temperature control preferences that could then be accessed through smartphone sensors, similar to those found in automobiles with climate-controlled seating. Personalized lighting and climate control are also sustainability design strategies expected to contribute to a decrease in overall energy consumption and drive the move toward a net-zero footprint.
With sustainability increasingly a high priority for airport management, travelers will see an emphasis on long-term strategies benefiting both the environment and their personal well-being. Improved air quality remains a priority for passenger safety and comfort due to coronavirus, and some of the existing measures in place today will endure. Improving air quality via natural ventilation and integrating sustainable design features are ways to contribute to a healthier building environment in the departure area. Such features could include indoor smart gardens that are self-watering or outdoor green spaces used by airport restaurants to compost and grow food.
Another environmental design element that has already begun to make its debut in airports is the use of electrochromic glass, which reduces glare and regulates temperature, and ensures that passengers and staff no longer suffer from intensely bright rays of the sun or overheated spaces.
Future airport departure lounges will also alleviate the frustration that comes from confusing signage with the installation of interactive LED wall systems and carpets that will make it easier to navigate to the gates and other airport amenities. Passengers will simply walk, guided by their smartphones synced with these LED directional carpets, to reach their destination. Interactive walls will activate by touch, allowing the wall to turn into a screen so passengers can easily access helpful information. These elements, along with other emerging technologies such as robotics and biometrics, will be key in allowing airport stakeholders and designers to deliver spaces that are not merely functional, but aspirational, providing memorable experiences that keep travelers coming back for more.