Reflections on Rio: interview with Bill Hanway
What was most rewarding about working on the 2016 Rio Olympics?
One of the most rewarding parts was knowing that after the games, the area would become a new neighborhood with housing, schools, offices, retail, and open space. We simultaneously created three masterplans—one for the games, one for the transition, and one for legacy. In our masterplans and concept designs for the venues, if a venue had long-term utility for the community or the country, it was remodeled and turned into a new permanent venue for future use. Our team developed an approach that used temporary structures that could be demounted and salvaged, and we researched how we could transform the component parts of the design for other uses like schools and community facilities. The mayor of Rio called this approach "nomadic architecture."
Who worked on the project?
In Rio, we had a core team of about 25 people who took the games from initial concept all the way through. The team expanded and contracted during that time, based on needs. As the design expanded, we added in architects and landscape architects. When transportation or security became a priority, I knew I could call on these teams. So the team grew to 150 or 200 at some points—but that core team of 25 was always at the heart of it. This team was led by our senior project manager Nadja de Almeida.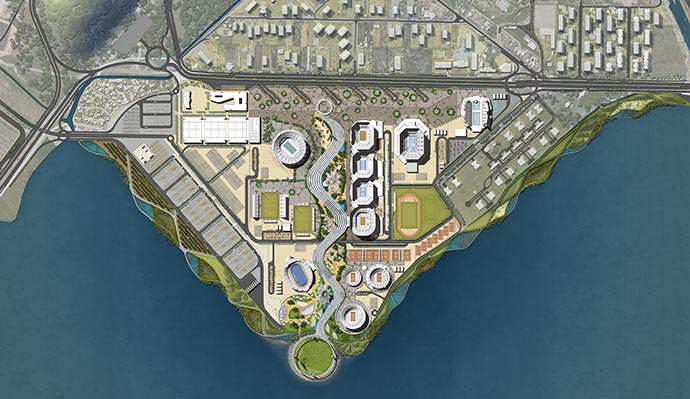 AECOM's Rio 2016 masterplan for games mode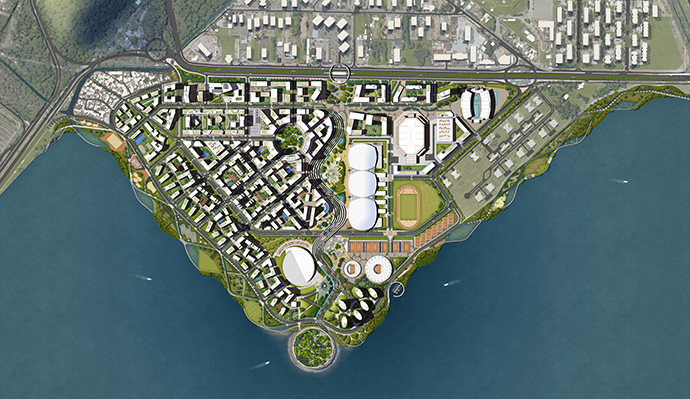 AECOM's Rio 2016 masterplan for legacy mode
What lessons were carried over to Rio from working on the 2012 London Olympics?
We first applied the approach of using the Olympic and Paralympic Games as a platform for a transformational legacy in our work for London 2012. This methodology helped ensure that the investment in future infrastructure and community development was put in place before the games were over. This focus on the revitalization of East London, formerly an area of environmental degradation, heavy infrastructure, and limited economic opportunities, was key to London winning the games. Four years later, Queen Elizabeth Olympic Park is an anchor for new neighborhoods that will be complete with housing, jobs, schools, transportation and quality open space.
What do you see looking forward to your work on Tokyo 2020 and the Los Angeles bid for 2024?
Tokyo is much more developed as a city in terms of infrastructure and public transport. At the same time, Japan is facing similar challenges in terms of its budget. The International Olympic Committee's Agenda 2020 emphasizes the use of existing venues and temporary venues—much as we did for Rio—to ensure that the games are fiscally responsible. We will also see that in the plan for LA, which has an unparalleled number of great venues already in place with a number soon to be built, including the new LA Rams Football Stadium. In addition, LA is already upgrading its transportation network, so the games will focus on using public transport as the primary form of spectator movement. Every successful games needs to reflect the culture of its host city, but as time goes on we will see greater emphasis on new construction of sports venues with a focus on long-term legacy use, not just on the three weeks on the games.