Safeguarding our people, our work and our world
I believe that to be successful, ethics and compliance need to be woven into the cultural fabric of an organization. I learned the importance of the relationship between culture and ethical behavior when I was stationed throughout the world, including Japan and Iraq, as a major in the U.S. Marine Corps. While second-in-command at the Iraqi Officer Academy, I helped introduce the principles of competitive bidding and ethical procurement to the Iraqi military.
I then joined URS, an AECOM legacy company, as a project manager for our U.S. government client's efforts to design, test and deploy a fleet of transport vehicles. I was responsible for the program's cost, schedule and performance—which taught me the importance of sound execution and customer service.
After a couple of years, I decided to put my legal background to work and transitioned into what is now AECOM's Management Services legal department. I advised on U.S. government contract issues, conducted internal investigations and managed a wide variety of compliance activities. Several years later, I was offered the chance to move into a full time ethics and compliance role at the corporate level and leaped at the opportunity. The new role enabled me to operate on a more international stage again—within a year I was able to travel to India, China and throughout the Middle East.
Having worked first on the client side and now leading Ethics + Compliance at AECOM, I noticed that we tend to emphasize the procedures required to be compliant rather than focusing on behavior. A coherent program to address compliance risks related to issues like corruption and international trade is certainly needed, but there's no substitute for a strong culture of ethics.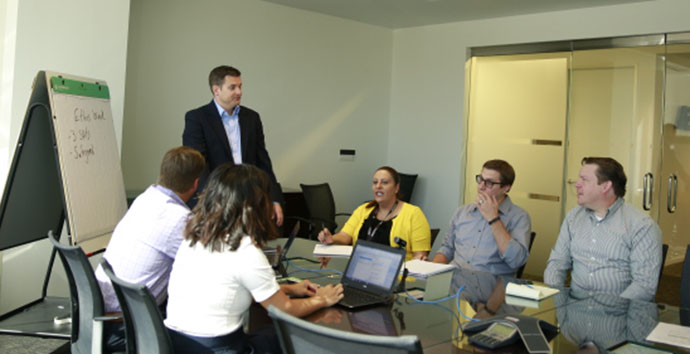 Our leaders point to the importance of safeguarding AECOM's integrity, but the strength of our culture ultimately relies on our people internalizing our values and making good choices. That is why AECOM's Ethics Week, September 19-23, focuses on individual behaviors rather than policies and procedures. This year's theme, "Safeguarding our people, our work and our world," celebrates and promotes our workplace culture built on ethics and integrity. The idea is to empower our people to act with integrity by identifying and resolving ethical dilemmas that they may face in their day-to-day activities.
I'm proud to be an employee of AECOM, and I am always looking for ways to engage colleagues throughout the company in building a culture that is founded upon doing the right thing and operating with integrity in everything we do.
My Personal Philosophy: I think that we communicate with each other most authentically when we connect AECOM's core values of Safeguard, Collaborate, Inspire, Anticipate, Deliver and Dream to our personal values. My personal ethics encourage me to promote the greater good, collaborate with others fairly and meaningfully, and treat all people with dignity and respect. These ethics help me contribute to safeguarding our people, our work and our world.