Water is a vital but limited resource
Our recently launched Blueprint Travel Grant program supports employees making service-based trips around the world in partnership with charitable organizations. As they return from their journeys, we're following their stories through an #AECOMBlueprint blog series.
I first heard about Engineers Without Borders in 2017. After learning more about the organization, I saw an opportunity to apply my technical skills to make an impact in a developing community. My first project was to design a rainwater harvesting system for a 250 student school in Kenya. The project includes equipping the school's roofs to capture as much rainwater as possible and collect it into storage tanks, from which the students can easily access the water through outlet taps. The primary use for the water is for hand washing and drinking. 80 percent of the construction cost was collected through fundraising activities, while the remaining balance was covered by a donation from AECOM's New York office leaders. In addition, I was granted an AECOM Blueprint Travel Grant, which not only helped cover travel expenses, but also spread the word around the company, resulting in even more support towards the project from both my colleagues, manager and office leaders.
Last August, a team of four, including myself, set out to Misuuni, Kenya to begin construction on the project. Because of time limitations, excavations started before our arrival and once we arrived the team was split into two: one for procuring materials and one for construction. After three weeks, the project was completed. I was part of the construction team, which involved being on site every day making sure that the work is being done according to the plan. While some unexpected issues came up, we ensured that they were quickly resolved. Due to the nature of the project, we often had to liaise with the workers, the local community and sub-contractors all at the same time. When you start realizing that there is a language barrier, that regulations are not as stringent as they are in developed countries and that not all materials are readily available, you have to bring out the best of your people management and communication skills to move forward with the project. Fortunately, the last two years at AECOM helped me enhance the project management skills necessary for this type of undertaking.
Not only was the project successfully completed on time and within budget, but it also provided 20 percent more roof catchment area than anticipated. We were also able to rehabilitate damaged gutters. The final product includes four 7,200 liter tanks, 100 meters of gutters and six water taps.

It was clear that the system would improve the daily lives and health of the students and the community was incredibly thankful to us. The team took immense pride in knowing that we had caused such a positive impact. However, at the same time, we realized how living in a developed country can cause someone to take some things for granted. Particularly, the value of water and having access to it.
Water is a limited resource, and although vital, I believe it should be priced accordingly. One shouldn't be misled by the fact that ~70% of Earth is water(1). Even with recent technology such as desalination, which is the process of converting sea water into drinking water,  the current worldwide water supply from desalination provides only one percent of the worldwide population water demand(2). Also, water seems to replenish more slowly than it is consumed.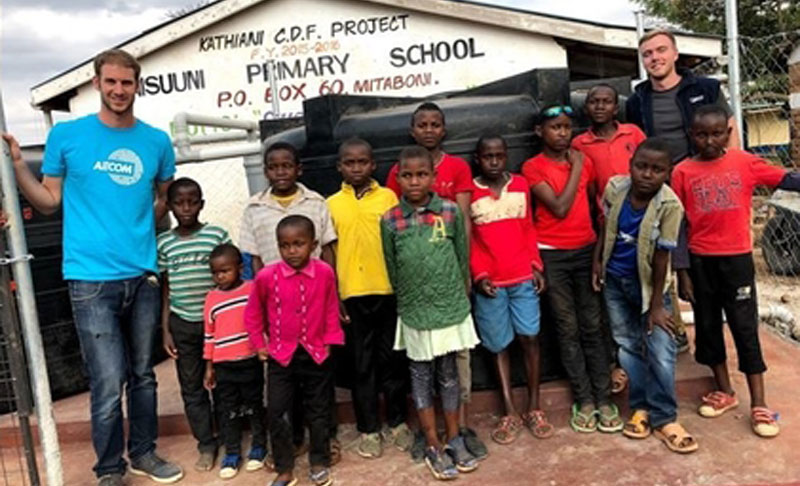 Climate change and higher living standards have further increased consumption to prohibitive levels in some regions. With desalination cost of more than twice of conventional methods(2,3), imagine the impact that meeting the world's water demand solely with desalination would have on its price and worldwide economies.
Overall, this experience gave me both personal satisfaction and professional development. Today, at AECOM, my tasks are closely related to conserving water and its quality. AECOM's Water business line has numerous opportunities to get involved: from resiliency, to water/wastewater treatment, to stormwater management. I encourage everyone that is passionate about water to get involved and make a difference. AECOM is a great place to start!