Working toward gender equality in Africa
In recognition of International Women's Day on March 8 and this year's theme, #BeBoldForChange, we are featuring stories from our leaders and employees throughout the month of March, describing their own bold moments in relation to workplace equality and honoring diversity and inclusion.
Dina Scippa, senior gender and social inclusion advisor, International Development
This year's International Women's Day theme, #BeBoldforChange, motivated me to bring the collective actions of our international development programs into focus. Our programs are empowering women and girls across the world and encouraging men and women to come together and "lean in" to address the need for greater gender equality, despite it not always feeling comfortable. I'm pleased to share a few stories from our field office staff working in Africa about how they are being #BoldforChange.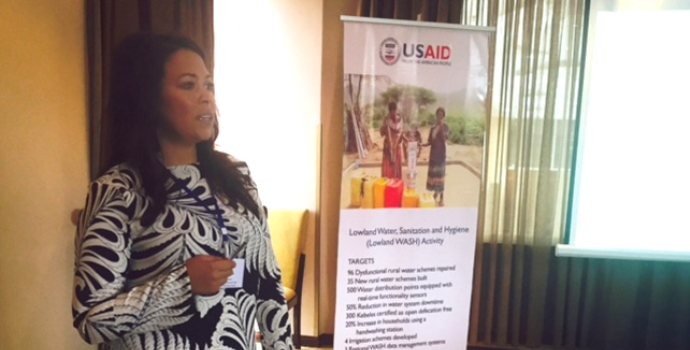 Dina Scippa facilitates a workshop on how to better integrate gender considerations into water, sanitation and hygiene programmes.
Olivier Girard, chief of party, USAID-funded Mali ACCORD program, Bamako, Mali
In northern Mali, where AECOM has been working since 2013, there is a string of highly secluded and conservative communities along the Niger River that largely embraced the presence of violent extremist organizations occupying the country in 2012. In these communities, women are not allowed to leave the household unaccompanied and have very few economic and educational opportunities.
As part of our work to counter violent extremism in northern Mali, our team has gradually engaged with these communities, using dialogue between them and their neighbors as the main tool to break the physical and social isolation and create more openness to change. I am most proud of the work we have done to reach out to women of these reformist communities, helping provide opportunities to increase their social and economic resilience.
An approach we use is to set up multi-functional platforms, small engine-based infrastructure tools used to de-hull and grind rice and millet, as well as to charge battery equipment. These platforms, managed exclusively by women, provide us with an opportunity to engage with women over the long term on topics ranging from leadership to gender-based violence — something that was virtually impossible to consider a few years ago. Through this simple infrastructure and the sharing of experiences, we're helping break stereotypes and empower one of the most marginalized groups of women in Mali.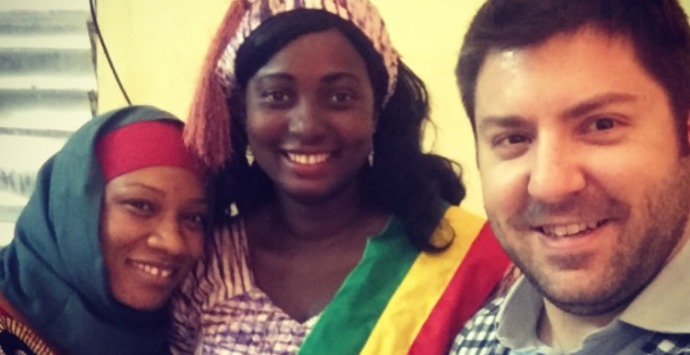 Olivier Girard (right) meets with local women leaders recently elected to positions within their municipality.
Amina Harun, senior governance and strategic communications advisor, USAID-funded Somalia Transition Initiatives for Stabilization Plus (TIS+) program, Nairobi, Kenya
At a recent conference in Nairobi, Kenya, where the TIS+ program is based, I was reminded that being a woman, and further a woman of Somali descent, was very much the exception, rather than the rule, in a room full of development aid workers implementing programs throughout my country. Being both a woman and a Somali national, I recognize the important perspective I offer to the conversation of development efforts.
I see myself as someone who has opportunity; my voice can be heard. I also see myself as an agent of change, with a responsibility to let people know that there are alternative ways of thinking and being. Viewing myself this way ensures that I share my ideas and thoughts on program activities openly with my supervisors and team as an expert in my field of work with knowledge enhanced by my own perspective and experiences.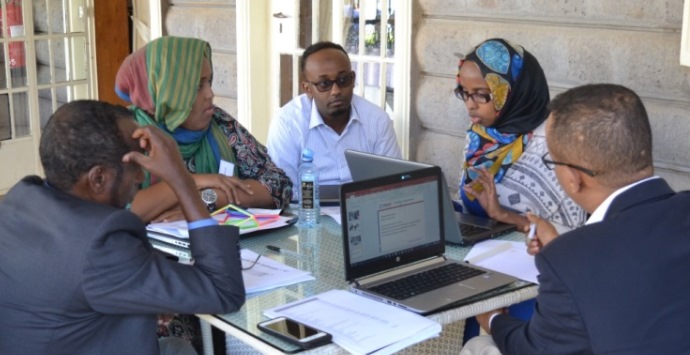 Amina Harun (center right) and her colleagues during a strategic planning session for the Somalia TIS+ program.
Nashwa Habeeb, gender and youth advisor, USAID-funded Strengthening Entrepreneurship and Enterprise Development (SEED) project, Cairo, Egypt
Focusing on micro, small and medium enterprise (MSME) development in Egypt, the SEED project helps women and youth, who are traditionally excluded from broad-based participation, take bold action related to their economic empowerment. To address the challenges presented in the entrepreneurship ecosystem, SEED works to increase employment and income of MSMEs and entrepreneurs by stimulating innovation and improving available services.
I strongly feel that every action taken by SEED has helped women entrepreneurs take bold actions for themselves and their livelihoods. Our project supports networking conferences and start-up competitions across Egypt, targeting entrepreneurs and MSMEs both in and outside of Cairo to increase their access to resources and critical inputs. These events also present a tremendous opportunity for women to connect with each other. They come together from across regions and various market sectors to network with influencers and decision-makers to yield real benefits toward sustainable growth and prosperity.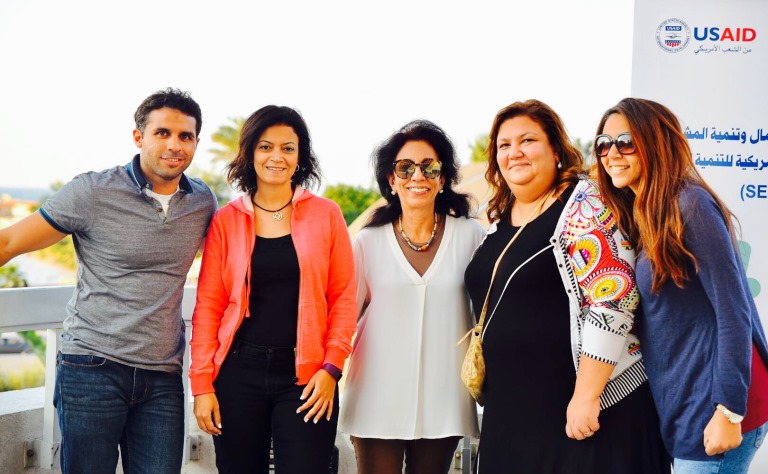 Nashwa Habeeb (second from right) participates with other AECOM SEED colleagues at a start-up weekend competition for female entrepreneurs.