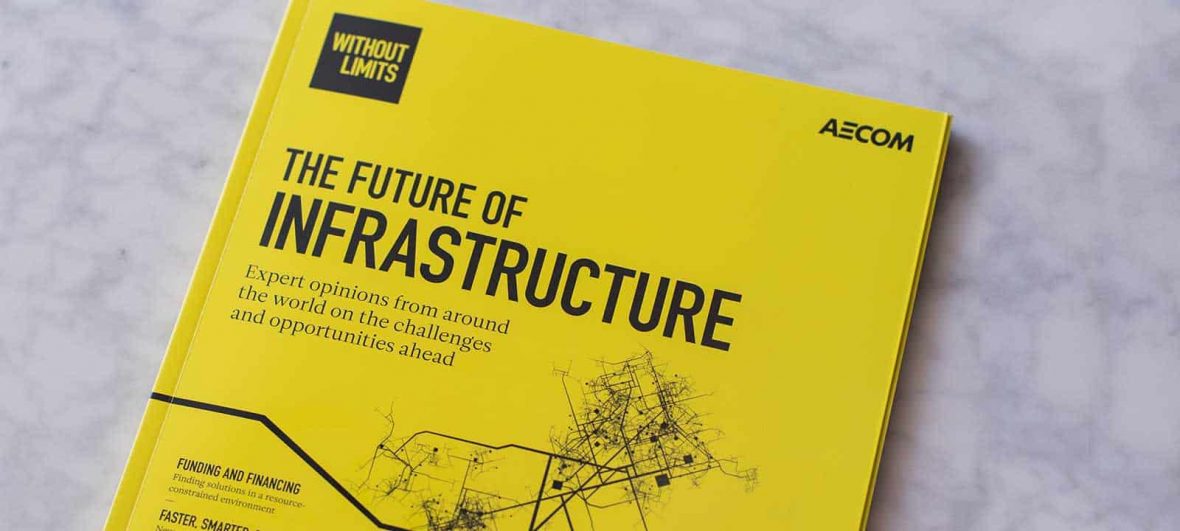 Infrastrukturbranschen står inför större utmaningar än någonsin. Det visar en ny rapport från AECOM, som samtidigt föreslår nya sätt att leverera infrastruktur, snabbare, smartare och bättre.
AECOM har släppt en global forskningsrapport, Framtidens infrastruktur, med synpunkter från över 500 av branschens beslutsfattare i stora organisationer i Nordamerika, Europa och Stillahavsområdet. Åtta av tio ställer sig bakom påståendet att vi befinner oss i en avgörande tid för branschen, och rapporten lyfter problemen, prioriteringarna och potentialen kopplade till att leverera stora infrastrukturprojekt runt om i världen.
"Infrastrukturnät och -system världen över är tungt belastade. I kombination med urbanisering, klimatförändringar och teknologins svindlande framsteg, är det inte längre ett tillräckligt mål att enbart minska det befintliga gapet," säger Michael S. Burke, AECOMs ordförande och VD.
"Vår rapport tydliggör att vi genom att fokusera våra bästa hjärnor, utbildning och att sätta fler duktiga människor i arbete, samt använda nya digitala verktyg, tillsammans kan leverera en bättre framtid med hjälp av infrastruktur. Högkvalitativ infrastruktur medför transformativa möjligheter, och att utveckla rätt lösningar är allas vår uppgift."
Samtidigt som regeringar världen över står inför en tid av komplexitet och omvandling utan motstycke, visar rapporten The Future of Infrastructure hur infrastrukturutvecklingen kompliceras av snabb urbanisering, förändringar i demografin och ökad digital mognad. Mer specifikt studerar rapporten gapet mellan finansiering och investering, det ökade behovet av robust infrastruktur, arbetskraftens förändrade behov och hur branschen måste utveckla innovationer i ökad takt.
Några av de viktiga slutsatserna i rapporten är:

• Förändringar i lagstiftning och innovativa finansieringslösningar behövs för att minska hindren och ge den offentliga sektorn ökad tillgång till privat finansiering. 90 procent anser att innovativa finansieringsmodeller är effektiva när det handlar om att överbrygga finansieringsgapet.


• Att framtidssäkra och skydda befintliga nätverk och system är nödvändigt för att säkerställa skyddet mot en cyberattack eller ett fysiskt angrepp. 71 procent menar att en stor cyberattack eller stadstäckande transportavbrott är ett sannolikt scenario inom en snar framtid.


• När vi nu går in i den fjärde industriella revolutionen, måste alla som är involverade i infrastruktur tänka om när det gäller projektdesign och leverans. Uppkopplad expertis kommer att vara nyckeln för ett sömlöst arbetssätt. 71 procent anser att många av de traditionella, beprövade metoderna för projektledning inte är anpassade för att möta kraven i dagens stora och komplexa program.
"Vi vet att trygg, säker och robust infrastruktur är avgörande för ekonomisk tillväxt och social utveckling," tillade Mr. Burke. "Branschen måste välkomna innovationer och hitta nya vägar för att finansiera och leverera projekt på ett snabbare, smartare och bättre sätt."
Läs eller ladda ner rapporten The Future of Infrastructure på: infrastructure.aecom.com.