Creating a Culture of Caring through a Commitment to Well-Being
At AECOM, we continuously work to create a Culture of Caring – an environment that supports the well-being of our employees and their families.
People are at the heart of our business and mission. After all, it's our people that enable us to deliver the unmatched engineering, design, construction, management and government services solutions for which we are known and admired. That's why we commit significant time, energy and resources to helping all employees achieve well-being in every area of their lives.
Research shows that employee well-being drives business success. In Deloitte's 2018 Global Human Capital Trends survey, 61 percent of respondents said that employee well-being improves productivity and bottom-line business results. Other studies show employee well-being positively impacts recruiting and retention, safety and absenteeism. While business results are important, there's more to the story. Employees not only feel better at work, they have more to give outside of work – to family, friends and their communities. It's a winning proposition all the way around.
We define well-being through five pillars — physical, financial, emotional, social and planet — demonstrating that well-being goes beyond staying physically fit and emotionally healthy to making sound financial decisions, becoming involved in your community and taking care of our planet.
Last year, we held our first Global Well-Being Week to bring focus to all aspects of well-being for our employees around the world. It was a big success, and to build on that, we will soon launch Global Well-Being Month.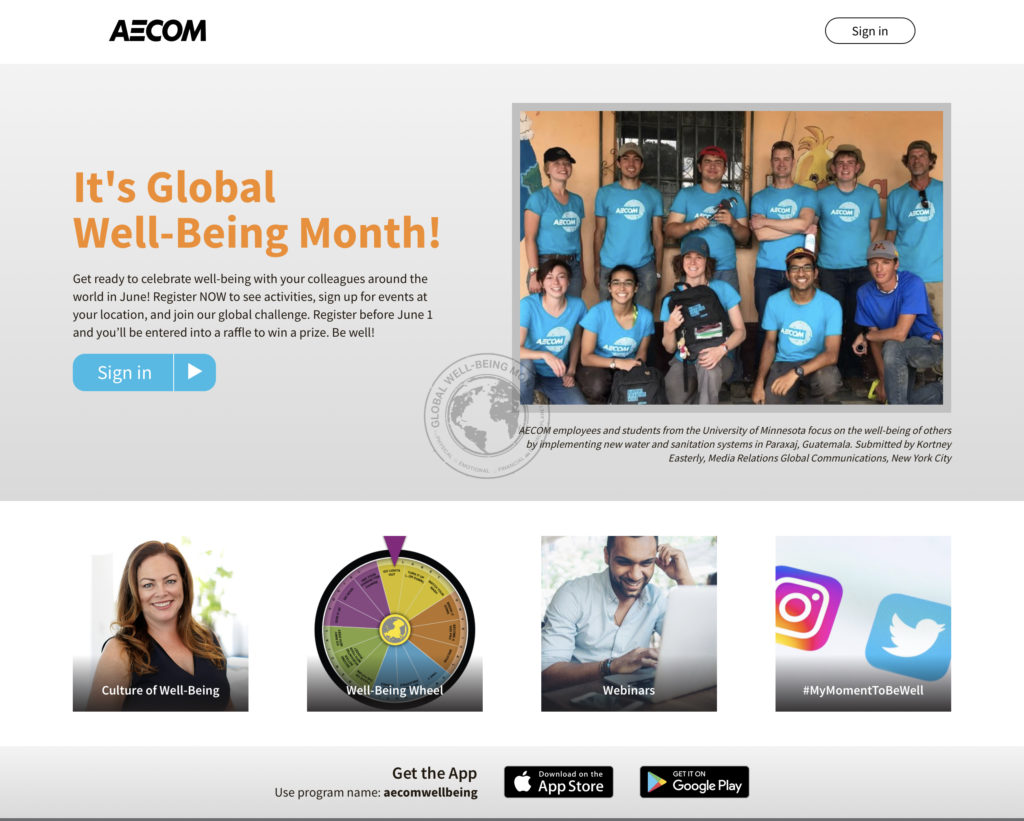 This June, at nearly 100 AECOM locations in 25 countries, our employees will participate in onsite and digital activities, such as webinars, and onsite events, including healthy potluck lunches and electronics recycling drives. Employees will also have the opportunity to join a global well-being challenge. And, they can use social media to share their well-being actions with colleagues around the world using the hashtag #MyMomentToBeWell.
Our focus on well-being benefits employees, their families, our communities, our company, partners and clients. It helps us bring our best to everything we do, personally and professionally. And it helps all of us at AECOM fulfill our commitment to deliver a better world.
Looking for a new career? Consider joining the AECOM team, working to make amazing happen in communities and cities across the globe. Visit: aecom.com/careers.