Hope for Cambodia's female construction workers
In recognition of International Women's Day on March 8, and this year's theme, #BalanceforBetter, we are featuring stories from our leaders and employees throughout the week of March 4, describing their own approach to workplace equality and honoring inclusion and diversity.
The construction industry in Cambodia is booming. With the real estate sector driving growth in cities like Phnom Penh, construction industry workers are in high demand. Women make up 30 percent of the country's construction workforce, yet they are often treated as inferior to their male colleagues. In January, I traveled to Cambodia to work with the charity CARE Cambodia, an international development organization fighting global poverty with a special focus on working with women and girls, to support their work with vulnerable women in the country's construction industry supply chain.
Funded through the AECOM Blueprint Travel Grant program, a corporate responsibility initiative that funds employee-driven volunteer service trips in partnership with nonprofit organizations, my colleague Louise Marron and I spent nearly two weeks with CARE Cambodia. The aim of our trip was to share our experiences of working in the UK construction sector and make recommendations for improvements to help support change.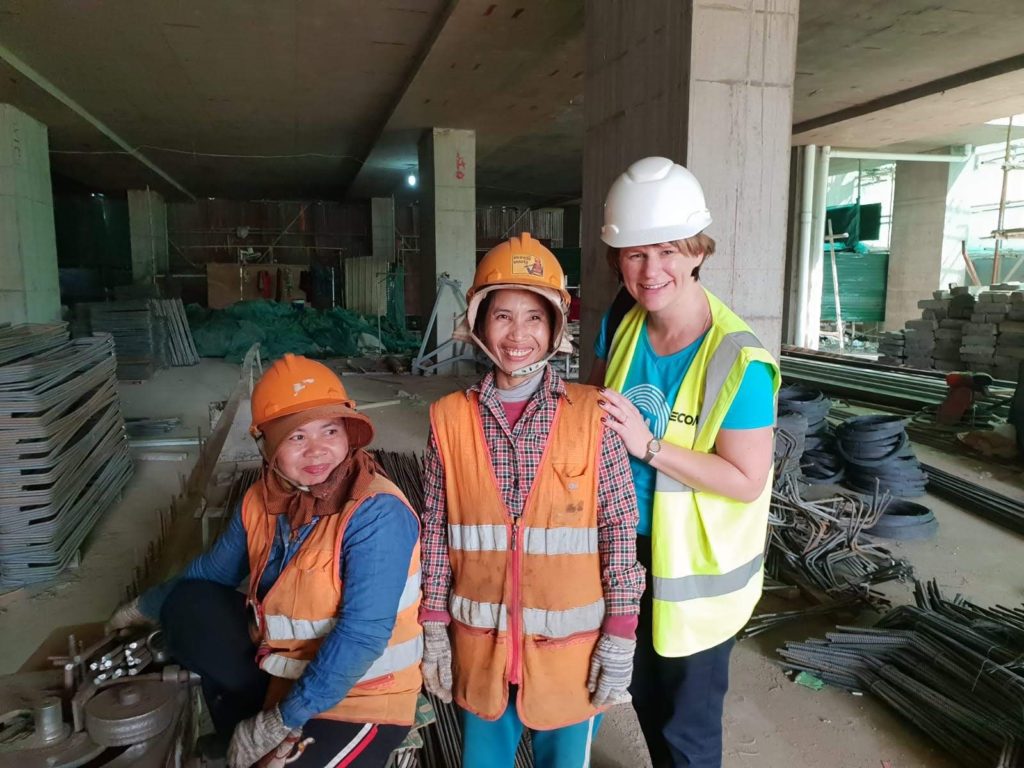 Karen Britton meeting the women responsible for steel bar bending on a construction site in Phnom Penh, Cambodia
Women in Cambodia's construction industry face unsafe working environments, poor labor rights, unequal pay, sexual harassment and extremely long working hours. Female workers often do not have any personal identification or evidence of their employment. They won't have a contract and often no knowledge of who their employer is. Additionally, with accommodation often linked to their job, if anything goes wrong they can suddenly find themselves without a home for their family.
In contrast, men are offered opportunities for career progression, regularly receiving double what women are paid for similar work. Most concerning is the lack of health and safety for female construction workers. Men are often supplied with basic equipment, while the few women that are offered similar can have the price docked from their wages. At one construction site I visited, women were given the most risky jobs, like climbing high scaffolds without a safety harness and many were wearing flip flops or socks instead of the steel toe cap boots that are industry standard requirements. They are also forced to share welfare facilities with men at the untidy, hot, busy and noisy sites.
While I was shocked by these conditions, I was also encouraged by the initiatives that CARE Cambodia is supporting to help engender change. I visited a health and safety training session for women covering the importance of personal protective equipment (PPE). It was humbling to see these women, many with babies in their arms, using their only day off to make things better for themselves and their families.
At the end of our trip, we had a positive meeting with Secretary of State and Minister for Labor and Vocational training, His Excellency Huy Han Song. We discussed the importance of government support for international standards such as the Principles for Responsible Investment (PRI) and the Equator Principles as a first step towards protecting the most vulnerable. This can then act as a catalyst for open discussions with investors about supply chain accountability for labor rights.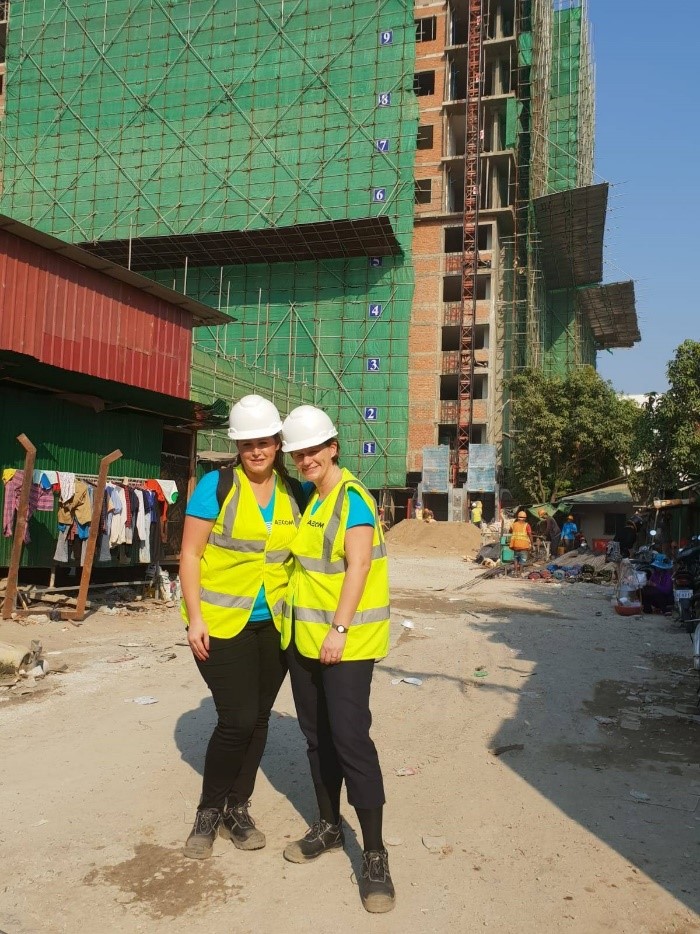 Louise Marron and Karen Britton visiting a construction site in Phnom Penh, Cambodia
The theme of this year's International Women's Day is accelerating gender balance. In Cambodia, I witnessed the truly damaging impact of imbalance in the construction sector supply chain. By sharing insights and international best practices, there is a real global opportunity not only to improve the productivity and growth in emerging economies but also to empower their female workforce and accelerate sustainable change.