Inspiring the next generation of scientists and engineers
My commitment to community involvement started with my mom and dad, who began stressing its importance when I was young. My mom drove me to high school, and during that long drive across the Lake Pontchartrain Causeway in Louisiana, she would take the time to remind me that "your father and I are making this commitment to ensure you get a college degree, find a good job, and then give back to the local community."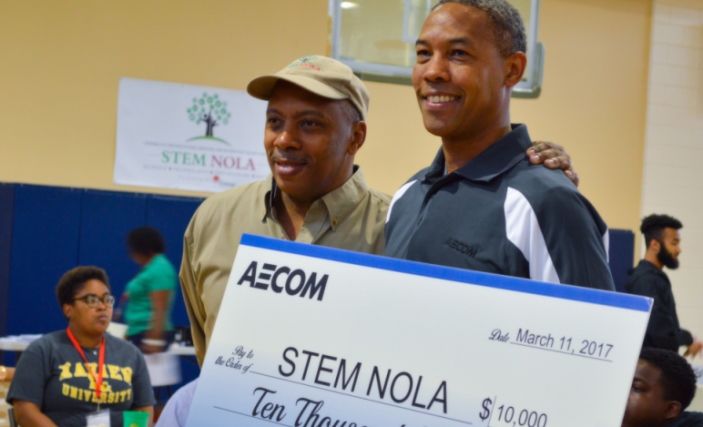 Tyler Jones (right) presents a donation to STEM NOLA with Dr. Calvin Mackie on STEM Saturday.
I dedicate my personal time to STEM NOLA, an organization that introduces kids to science, technology, engineering and mathematics (STEM) through STEM-based learning activities, specifically focusing on underserved communities across New Orleans. I found a connection with the executive director, Dr. Calvin Mackie, who is dedicated to making sure these students have a pathway to STEM careers. I personally take great joy in seeing students discover the world of STEM and develop skills that will benefit their careers, their lives and their communities. It's exciting to help inspire and teach the next generation of engineers.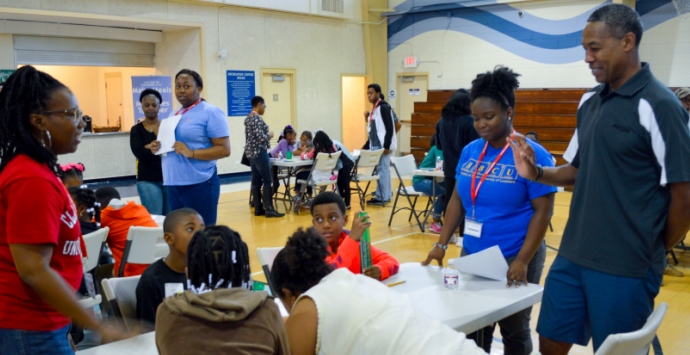 Students work on using Pi to decode an encrypted message during a STEM Saturday activity with Tyler Jones (right).
The person who inspired me most in my career is Thomas E. Rodriguez, currently a vice president of Brown and Caldwell's Private Sector Enterprise and who leads a multi-disciplinary team of engineers, scientists and construction professionals to address private industry's biggest environmental challenges. Thomas gave me my first opportunity in Philadelphia, PA, to step into the consulting community and taught me that developing long-term client relationships is the most important factor in supporting corporate growth and building a successful career.
I'm grateful that AECOM has given me the opportunity to apply the values Thomas helped me develop from the beginning of my career. Recognizing the different strengths staff members bring, building multi-disciplinary teams, and seeing them deliver work that improves quality of life for local communities are great sources of satisfaction for me.