Where millennials can build a career
As Construction Dive recently reported, the construction industry is facing a huge hurdle when it comes to recruitment – a 200,000 to 250,000 worker deficit, to be exact. When thinking about it objectively, it doesn't make sense – the pay is competitive, an aging workforce will continue to yield plenty of jobs, and there are many different specialties to suit all preferences.
What millennials want
The problem is, we're doing a poor job of touting the extensive benefits of construction to the younger generation. Millennials have different priorities when choosing a career. One is status, with dreams of moving to Silicon Valley and landing a job at Google. Another is social responsibility, they are looking for companies that make a difference. A third is simply enjoying their job – they will work hard, but they want to be doing something they love.
Building our future
Construction is a clear match for all of the above and it is up to us – the industry as a whole – to spread this message. We employ cutting-edge technology to build efficiently. The work we do makes a tangible difference to communities around the world. It's not surprising that our employees like coming to work every day. Millennials are a perfect fit for construction because they think innovatively, are tech-savvy, learn quickly, and are great collaborators.
To recruit and develop the next generation of our workforce, we need to place value on the idea of apprenticeship and ramp-up these efforts now so the current generation can pass on their years of knowledge to the next.
Interns hold the key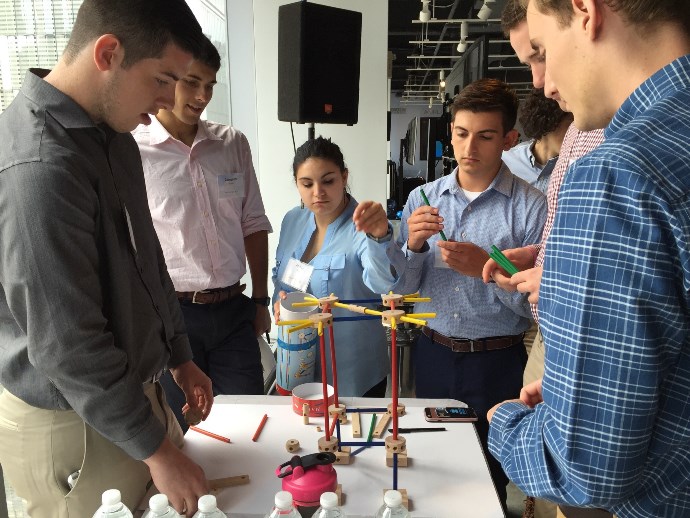 That's why AECOM's robust intern program is vital to our future success. This summer, more than 150 interns participated in our Building Construction internship program. Our interns were placed throughout the organization in both project and functional office roles, which shows you don't have to work on a project site to have a career in construction. Of course, our goal is to fill full-time positions, but we also want our next workforce to discover what they love – and what they don't.
Our internship program is successful – we've hired many full-time employees after they've spent a summer with us. Last year alone, we hired 42 former interns. More importantly, it's clear these individuals are satisfied with their jobs because they are among our most engaged, productive employees.
Pursuing a passion
Our employees benefit from being part of a diverse, global organization at AECOM – from interns to entry-level to more senior employees, there are many avenues for people to truly pursue what they love. Someone on their way to becoming a superintendent may decide they find urban planning more interesting. Someone who designs parks may look up at One World Trade and decide they want to build super tall structures. There are endless opportunities at AECOM for everyone to find and follow their passion.
For those just beginning their careers, or those looking for a change, I strongly encourage a look into the construction industry. And, remember: sometimes the dream job is one that hasn't yet been considered.
Interested in a career in construction? Learn more about AECOM and check out our current job openings, here.