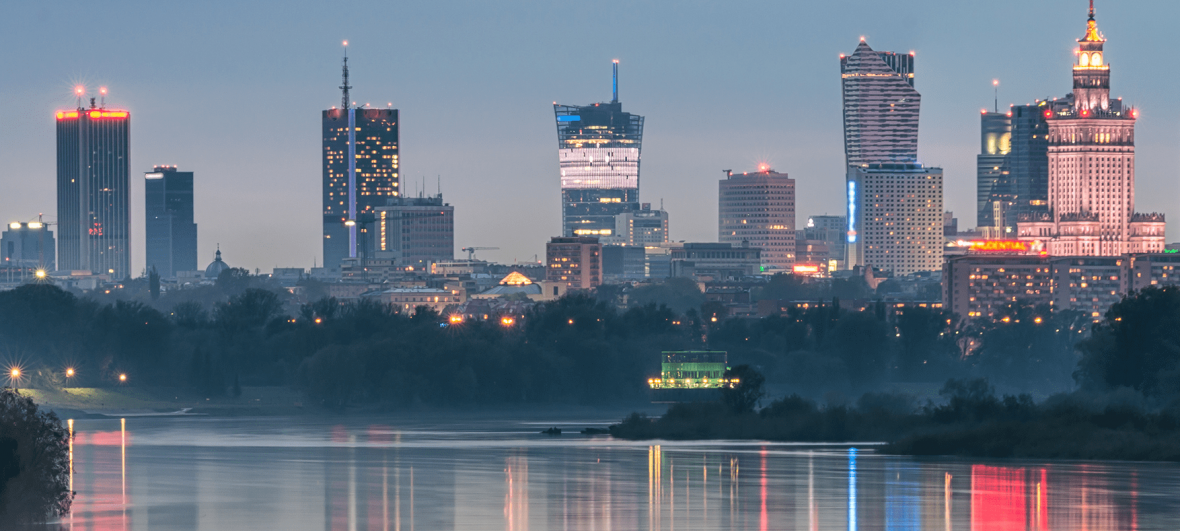 Poland's commercial office market is buoyant. But with office vacancy rates rising in big cities, supply is outpacing demand. Rather than a weakness, it is a sign of maturity, writes Mariola Bitner.
The echoes of the fireworks that lit up the night sky with reds, ambers and greens reverberated across the city. It was a lavish way to announce the arrival of the Warsaw Spire office development, its 200-metre main tower joining the Polish capital's increasingly crowded skyline. Recognised as the Best Office and Business Development at the 2017 MIPIM Awards this March, many also see the Spire as emblematic of the continued upwards trajectory of Polish commercial real estate.
Today there is confidence and a certain swagger in this part of central Europe. Since 1992 Poland has had uninterrupted economic growth , a trend which continued throughout the financial crisis that started in 2007. The steady inflow of EU funds has also helped to modernise ailing infrastructure, further fuelling growth in both the broader economy and the commercial real estate sector.
With salary growth starting from a lower base-point, and a young, dynamic well-educated local workforce, there is no let-up in the number of international firms either establishing new operations in Poland, or indeed expanding.
Meanwhile, foreign investors encouraged by strong tenant demand and low global interest rates continue to pour into the commercial property market, with warehousing, retail and commercial office schemes continuing to be popular. Newer sectors such as student accommodation, self-storage and retirement living are also quickly moving up the investment agenda, reinforcing the market's emergence.
Too much room at the inn
The commercial office market in Poland is unquestionably buoyant. In 2016, the country saw the highest developer activity in its history, with in excess of 800,000 m2 of office space being delivered to market, up 25 per cent from 2015. This was maintained in the first quarter of 2017, with over 84,000 m2 of office space being delivered in Warsaw alone.
Office vacancy (the percentage of available but unleased space in a property) in Warsaw however stands at a stubborn 14 per cent, demonstrating continuing over-supply and lagging tenant demand. This will likely take some time to even out once again, especially with recent announcements of more new city-centre development.
Warsaw's office vacancy is higher than Kraków (6.3 per cent), Wrocław (10.2 per cent) and the Tri-City area (Gdańsk, Gdynia and Sopot — 12 per cent), but lower than Katowice (15.5 per cent). The growth in business process outsourcing (BPO) and shared service centres (SSC) relocating to Poland has tended to be focused on secondary and tertiary cities where total operational costs, of which salaries form a significant proportion, are notably lower, which could partially explain some of the lower vacancy rates.
Compared to other more mature European capital cities, Warsaw's levels of vacancy are also high: London has a vacancy rate of 6.35 per cent, with Frankfurt standing at 9 per cent. Curiously, this imbalance is not putting off developers, with the big real estate consultancies appearing calm, convinced that the market — particularly in Warsaw — will correct itself and absorb any new supply. Time will tell.
The over-supply of commercial office properties in the Warsaw market has had a significant impact on rent levels with most landlords also typically offering considerable rent-free periods and fit-out contributions to tenants. Such a tenant-driven market reduces developer investment returns, and though the Polish market is resilient, markets such as Romania are increasingly appealing to both developers and investors looking for enhanced returns. As these newer markets mature, offering more investment-grade properties and increased liquidity, investment volumes will increase at pace.
Opportunity knocks
While Poland's capital city scrambles to fill its vacant office space, foreign investors are already turning to secondary cities across the country. With Poland's economy heavily tilted towards the capital, the development of offices in Poland's secondary cities to serve the burgeoning BPO and SSC sector is growing fast.
This is reviving and boosting the local economies in these cities, giving them an opportunity to be self-sufficient, while also maintaining local communities. These cities are also able to retain local talent that would otherwise have moved to the capital — or abroad, which in turn maintains the resilience of Poland's already impressive economic performance.
Real estate is cyclical, with periods of booming development, followed by quieter periods with less activity being the norm. Though Poland is far from being in the middle of a barren spell, the fact that its commercial real estate market may need to soon catch its breath is not a sign of weakness, rather strength. An indication of maturity, an emergence.