#CoolJobs: Front row view of the evolution of spaceflight
AECOM's Joshua Taylor sits in one of the chairs in which astronauts from well known shuttle missions donned their flight suits hours prior to launch.
My job at Kennedy Space Center (KSC) is amazing because I get to work with rare equipment, I am able to interface with customers in all areas of development, and I have a front row view of the evolution of spaceflight. I first became interested in the aerospace industry at a young age while watching my father work on various aircraft as an avionics technician in the United States Marine Corps. Growing up in Titusville, Florida, allowed me to have unlimited access to all things "spaceflight."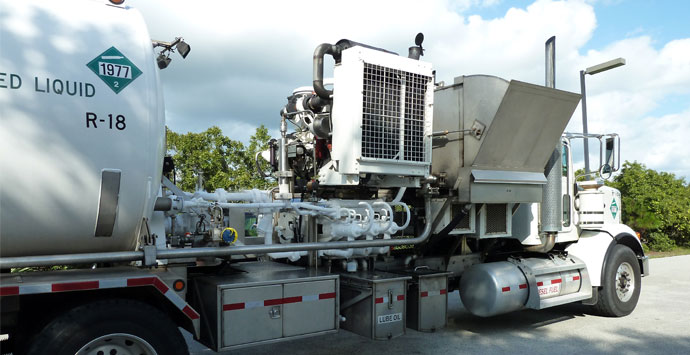 One of the six rechargers used to support launch customers.
At KSC, I am personally responsible for our multimillion-dollar fleet of six rechargers — units that convert cryogenically cold commodities (gases super-cooled until they become liquids) from a liquid to a gaseous state and pressurize it up to 10,000 pounds per square inch gage (psig). These rechargers are routinely used to supply inert gases to customers for purging and pressurization of flight components. They are also used as contingency support for launch customers — just in case the primary systems were to fail.
AECOM designed and built a tanker to store liquid natural gas used to fuel NASA's Morpheus program — a prototype planetary lander capable of vertical takeoff and landing.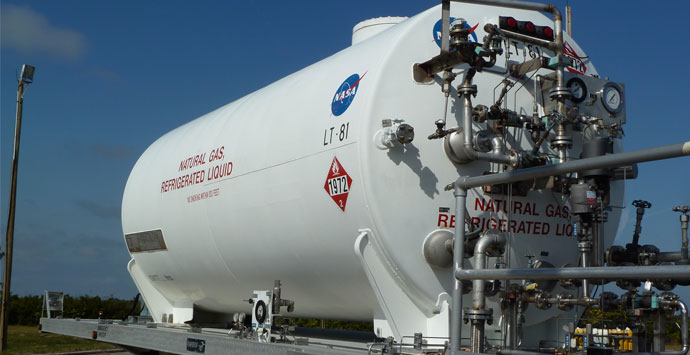 Liquid natural gas tanker designed and built by AECOM employees to support NASA's Morpheus program.
The Propellants and Life Support Division at KSC also fabricated a 10,000-psig, oxygen-compressed gas trailer — something previously unheard of in the commercial industry — for the Nitrogen Oxygen Recharge System (NORS) that will provide portable cylinders of nitrogen and oxygen to the International Space Station (ISS), a habitable artificial satellite in low Earth orbit. The system will replenish the atmosphere inside the ISS and for other operations onboard.

A video of the launch of NASA's Morpheus Free Flight 15.
I am certified to work launches at the converter/compressor facility, which is the only place at KSC that converts helium from a liquid to a high-pressure gas. Previously, I was responsible for the breathing air system used for suiting astronauts. I was able to sit in the chairs in which astronauts from Gemini, Apollo, and shuttle missions donned their flight suits hours prior to launch. It is awe-inspiring to think of what those men and women have accomplished.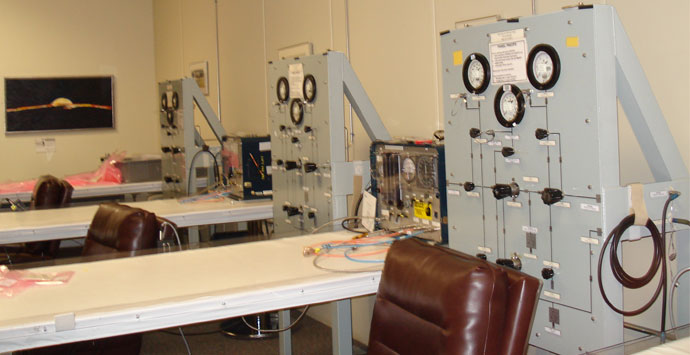 Astronaut suit room at Kennedy Space Center in Florida, United States. 
I am also working at KSC during an exciting time of major transition that will shape the way we reach space. I began working here towards the end of the Shuttle Program on the replacement Constellation Program. The Space Launch System (SLS) then replaced the Constellation program as the next NASA vehicle a couple months after the landing of STS-135, the last shuttle launch.

The landing of NASA's STS-135, the final space shuttle mission.
During the same timeframe, NASA began providing incentives for companies to transport astronauts to the ISS so that NASA could focus on reaching Mars. Boeing and Space Exploration Technologies rose to the occasion and received contracts from NASA for at least four (potentially 12) trips to the ISS to ferry astronauts and supplies. Along the way, NASA also selected Lockheed Martin to build its Orion capsule for SLS here at KSC.
I have been lucky enough to hold a position where I routinely deal with these major customers. I also work with the long-time customers on Cape Canaveral Air Force Station in Florida such as the United Launch Alliance, which currently launches most of the Department of Defense's payloads (what the rocket is carrying into space) such as the Global Positioning System satellites.
I'm thrilled to be a part of this exciting journey and to watch how AECOM and these companies transform themselves and the future of spaceflight.

Joshua A. Taylor is an engineer working on AECOM's Institutional Services Contract in the Propellants and Life Support division of the Kennedy Space Center in Florida, United States. Joshua was raised in Titusville, Florida, and attended Embry Riddle Aeronautical University to attain his bachelor's degree in aerospace engineering. He and his wife have two children, ages three and five; love to travel; and enjoy outdoor activities such as surfing, fishing, going to the beach, and playing soccer.
LinkedIn: Joshua Taylor