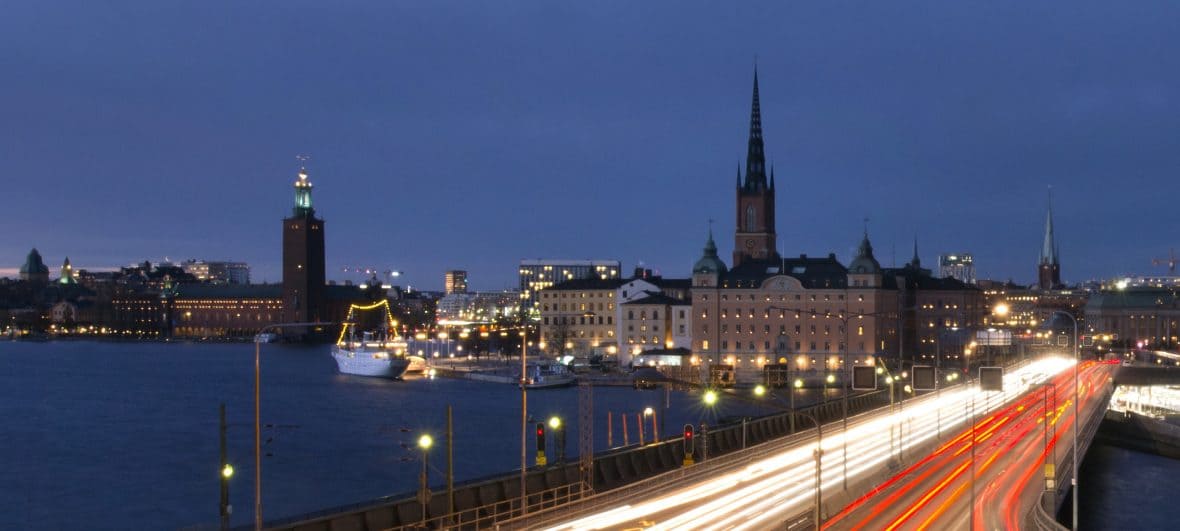 Complex infrastructure projects bring together numerous teams that produce and need access to vast amounts of data. None more so than the construction of the new motorway megaproject in Stockholm, which required the work of hundreds of specialist designers from around the world.
To enable them to collaborate effectively, AECOM introduced a dynamic working platform that streamlines design and construction – and facilitates future maintenance and operations.
Stockholm's solution
Like many big cities, Stockholm struggles with heavy traffic and increasing pollution — and the city's unique topography makes finding a solution tricky. Built on 14 islands, with slaloming waterways over which people cross using nearly 60 bridges, some 40 per cent of Stockholm's land consists of parks or recreational areas.
The new E4 Stockholm Bypass — one of the largest civil engineering projects in Sweden — will help tackle the city's congestion and decreasing air quality. With just over 18 km of the motorway going underground (some 100 metres at its deepest), it will also be one of the longest road tunnels in the world.
The motorway will consist of two parallel tunnels accommodating traffic in each direction. Both tunnels will have three lanes, increasing to four at six interchanges along the route. Trafikverket, the Swedish Transport Administration, estimates that some 140,000 vehicles per day will use the bypass by 2035.
Shielding fragile ecosystems
The construction of the new bypass is taking place close to many sensitive areas, including Lake Mälaren, Sweden's third-largest freshwater lake. Two islands on the lake are important Viking Age archaeological sites, while a third, Lovön, is the site of Drottningholm Palace, residence of King Carl Gustav of Sweden and a UNESCO World Heritage Site.
Together with the client, Trafikverket, the AECOM-ÅF team had to find a way to excavate and transport around 19 million tons of rock during construction, ensuring that the impact to the surrounding environment was minimal.
The answer was to create underground crushing chambers at several locations along the route, and tunnels through which they could transport the rock mass. Conveyor belts would then take 50 per cent of the rock to jetties, from where it moved through Stockholm's waterways to temporary reception points.
Better, efficient data handling
Nearly 600 designers from 20 disciplines in nine countries are involved in the project, with the design of the rock tunnels alone requiring the creation of over 50,000 documents. The problem with generating such a large amount of data is that it can end up being unstructured, poorly coordinated and difficult to manage. Such inefficiency can stall and add extra costs to projects.
The team used Building Information Modelling (BIM) for the project, a process for embedding digital representations of buildings and other built assets with lots of data and useful content for the whole lifecycle of a project.
One of the foundations of BIM, and the key to well-structured data, is a common data environment (CDE) — an online place for collecting, managing and sharing information among a team working on a project.
A CDE enables different teams to collaborate and integrate their masses of information. It allows data to be available 24/7 from any location so that anybody can locate and verify data rapidly and easily.
New ways of working
Workshops in Stockholm sought to identify the key ingredients for the CDE and to map out best collaborative practice. Based on the feedback, the team sought a CDE that could accommodate any metadata and document-coding requirements of regulatory and client standards. It had to be able to implement custom workflows that performed specific actions on documents, and manage versions as they passed through the approvals workflow.
The team chose ProjectWise, a CDE designed by software development company Bentley Systems. ProjectWise provides the ability to incorporate robust workflows for design, quality checks, approvals, collaboration, independent reviews and delivery.
Coordinating the different design elements in this ambitious project needed a new way of working in the region and a long-term strategy. This CDE provided a better method for collaborating, sharing information and increasing efficiency. It also reduced the possibility for costly project conflicts and clashes.
Breaking new ground
This approach in the Stockholm Bypass project differed from traditional project planning in that it allowed most engineering areas to combine three-dimensional representations. This presented new opportunities in production planning and risk management.
Thanks to the software, the design teams could assess and test their work in a virtual environment, enabling them to come up with innovative technical solutions and methods, reduce construction-related risks, and ensure they implemented environmental measures.
The successful application of the CDE during this stage has resulted in Trafikverket deciding that BIM would play a central role across the entire project. The organisation is now developing a national BIM strategy for all its projects, paving the way for all construction projects in Sweden to use this process.