SAME Joint Engineer Training Conference
May 10-12, 2022

AECOM is a proud Titanium sponsor of the 2022 Joint Engineer Training Conference, an educational and networking forum focused on the Society of American Military Engineers' (SAME's) mission "to lead collaborative efforts to identify and resolve national security infrastructure-related challenges." We're excited to visit Aurora, Colorado and gather in-person with attendees from the military, public, private, and academic sectors to discuss all things innovation! We invite you to chat with us at booth #213 and don't miss seeing our industry experts in action during the technical sessions listed below.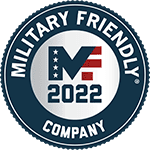 >> Visit JETC booth 213 to connect with us <<
AECOM has proudly supported the DOD mission for more than 100 years.
Click the images below to learn more about our capabilities across all federal sectors:
AECOM's Diaz honored with SAME Young Professional Medal
This week, Pete Diaz, PE, who manages water and wastewater projects out of AECOM's Guam office, will be presented with SAME's Young Professional Medal, a distinction awarded once a year to a Society member under the age of 40 who has demonstrated outstanding leadership and accomplishment in support of the Society's mission.
"I'm grateful," says Pete. "SAME has undoubtedly helped shape me into the professional and leader I am today." Pete has been a rising star within the organization since he joined his local post in Hagatna 12 years ago. There he served as post president in 2018. Later, he was selected to participate in SAME's National Leadership Development Program, during which he and two classmates developed a toolkit to expand the mentorship component of SAME's scholarship program. In 2021, he was inducted into SAME's Academy of Fellows, a distinction extended only to their most dedicated members.
"The Society has given me many opportunities to grow and develop as a young professional," he says, "but more importantly, they've given me the opportunity to give back and hopefully inspire and mentor others to see the value in being part of this amazing organization."
Helping to heal wounded souls...one puppy at a time
For JETC this year, AECOM has partnered with Hero's Puppy for Life (HPFL), a Colorado charitable and 501(c)(3) non-profit organization, that matches an eight-week-old puppy with local veterans and emergency first responders who struggle with post-traumatic stress disorder (PTSD). Together they embark on "relationship bond training", a program that facilitates an unbreakable bond based on unconditional love and trust and results in their puppy's graduation to service dog status.
The organization's founder, Frank Griggs, is an eight-year U.S. Marine Corps veteran who served two tours of duty in Vietnam and is a recipient of the Purple Heart Medal.  "Having lived my life with PTSD, and wishing no one else to live that way, I challenged the Purple Heart Chapter 1041 of Arvada in 2014 to place a trained service dog with a veteran living with PTSD," said Frank. "This began the journey to what is now known as the Hero's Puppy for Life organization."
Everything Frank does for HPFL is a labor of love. He receives no compensation for his service to the organization, with one exception: he requested that his own service dog, Bo, receive HPFL's very first challenge coin. These coins, which carry a long military history, are reserved for the veterans who shepherd their puppies through nine-months of training to graduation. The Graduation Challenge Coin is issued with a sequential number and is meant as a public expression of the recipient and puppy's dedication and hard work. In 2017, Bo was indeed the recipient of that first coin, numbered 001. Since then, HPFL has graduated puppies 002 through 081, with puppies 082, 083, and 084 to follow in May.
Hero's Puppy for Life will be at AECOM booth 213 to provide puppy therapy and information about their organization. Please join us in donating to this special cause.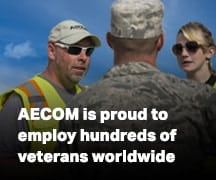 We're Hiring!
With an expanding federal portfolio, we're looking for candidates ready to deliver a better world on our high-performing team.
Explore the opportunities: aecom.com/careers